At 11pm our last night in Vegas, we still hadn't made it to The Strip, so we decided to at least stop to see the Bellagio Fountains.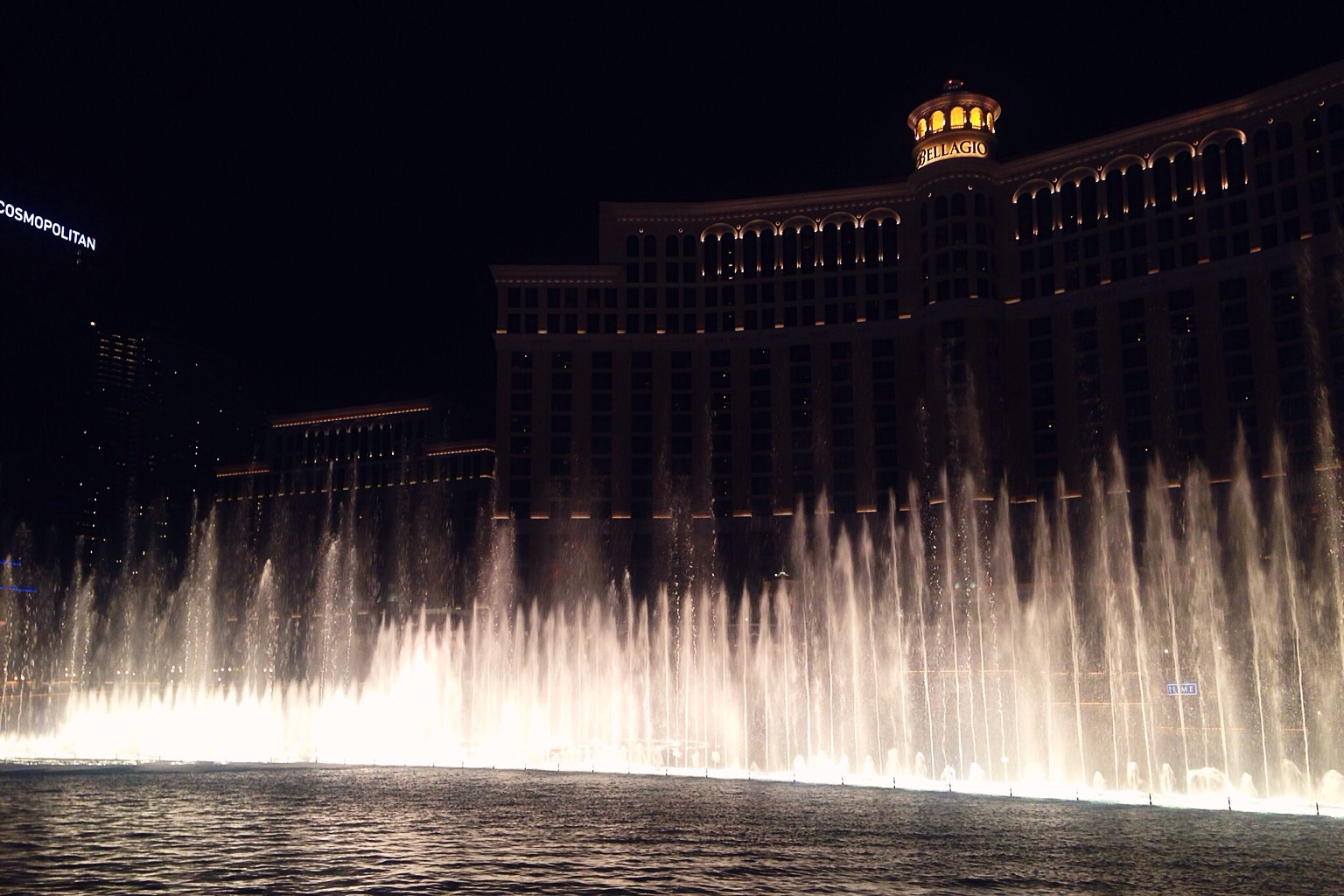 I had already looked up the schedule, perused the long list of songs played during shows, and found out there was free parking in the garage next door at Caesars Palace.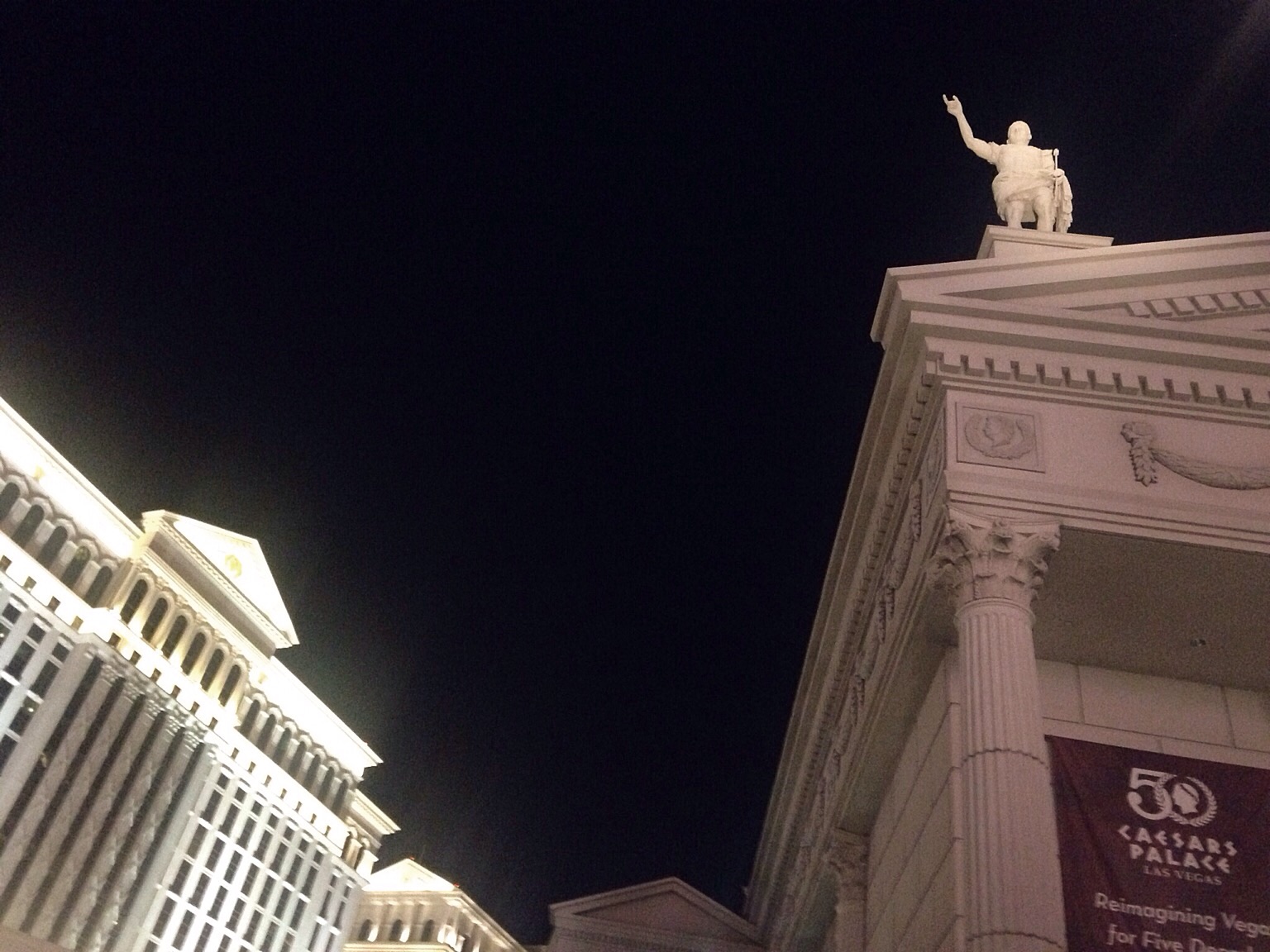 Leaving the parking garage puts you directly into the middle of a casino (of course) with no exits in sight (of course) where you end up wandering a labyrinth of glowing slot machines, poker tables, crowds and clubs and concert venues in a disorienting blur.
A pedestrian bridge, creepy garden, and near-collision later, we had finally made our way to the Bellagio – via, perhaps, the most circuitous route possible – only to find ourselves in some kind of never-ending shopping mall.
We doubled back, and eventually found our way out to the fountains, just after a show had ended (of course) and hung out until it was time for the next one.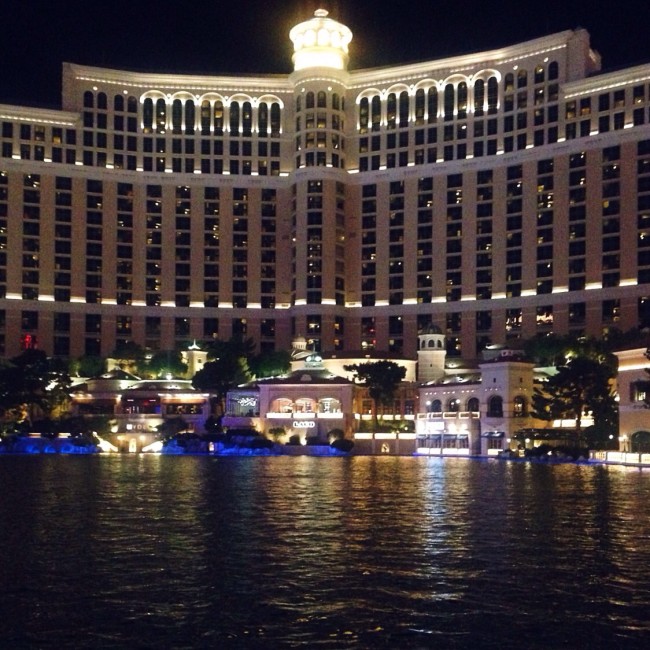 Without warning, Elvis's "Viva Las Vegas" started blasting and the fountains sprang to life, jets of water illuminated by gold lights shot into the air and twirled to the music.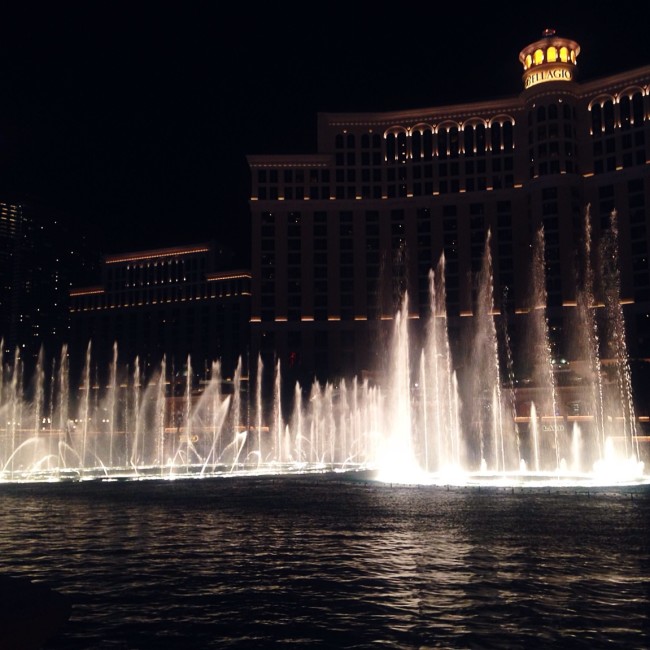 As the song ended, water crashed back into the pool, and the gold lights shut off. I waited in the dark for more, but the show was over. We turned around and began the long trek back to our car.
---
– More Fountains of Bellagio Info –
If you're not in a rush, there are several restaurants in the Bellagio that have a fountain view. Reservations are generally recommended.
Getting there: Most resorts have property maps online (Caesars Palace, Bellagio), or you can consult Google Maps ahead of time. (I didn't get very good signal inside.)
Parking: The Bellagio and other MGM Resorts have started charging for parking. There is free parking at (relatively) nearby Caesars Palace, Flamingo, and The Tropicana. Vegas.com has a whole article on parking garages, which is particularly helpful since resorts don't always make it easy to find their parking information.
Cost: It's free to watch the fountains outside.
Monday – Friday:
3 to 8pm, show every 30 minutes
8pm to 12am, show every 15 minutes
Saturdays + holidays:
12 to 8pm, show every 30 minutes
8pm to 12am, show every 15 minutes
Sundays:
11am to 7pm, show every 30 minutes
7pm to 12am, show every 15 minutes
---