I'm not that into chalk. It gets all over your fingers and dark clothing and erasing it makes you sneeze.
So when Chalkola contacted me about doing a review on markers that made to be a less-messy alternative to chalk, I was interested.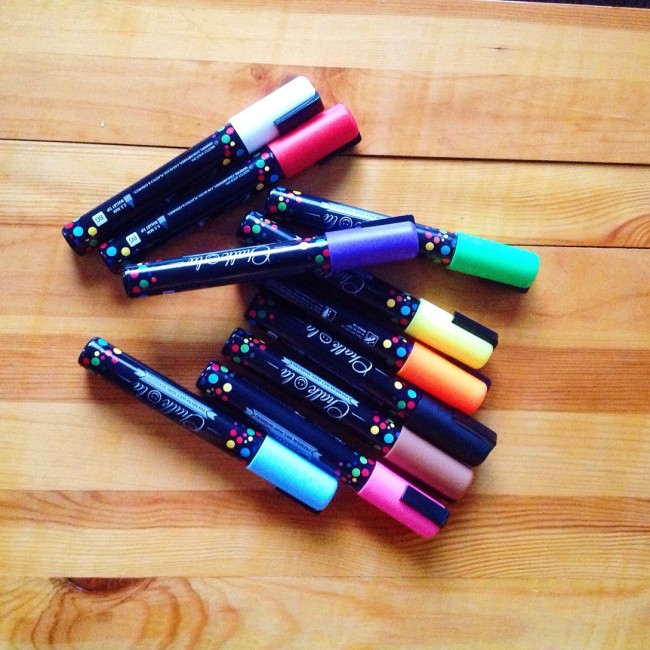 They sent me a pack of 10 Chalkola markers in neon colors (plus white, brown, and black) made to draw on chalkboards and other non-porous surfaces.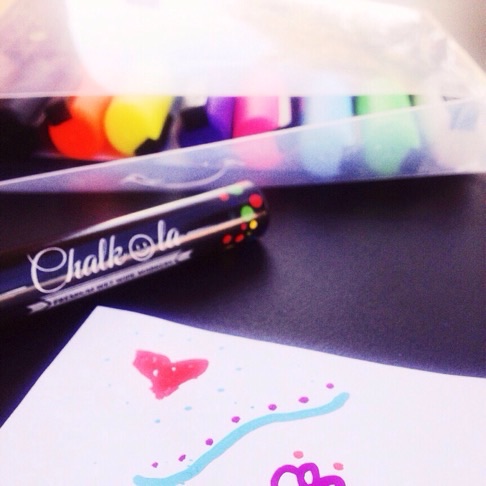 How They Write
The first time you use each marker, you need to shake it for awhile (they recommend 60 seconds, but I tried shorter times and that also worked), and then press up and down on scrap paper until you can see the ink. (You could actually do this on any surface you're going to write on but there can be a little splattering when the ink first comes out.) You don't need to repeat the whole shaking/pressing ritual after the first time.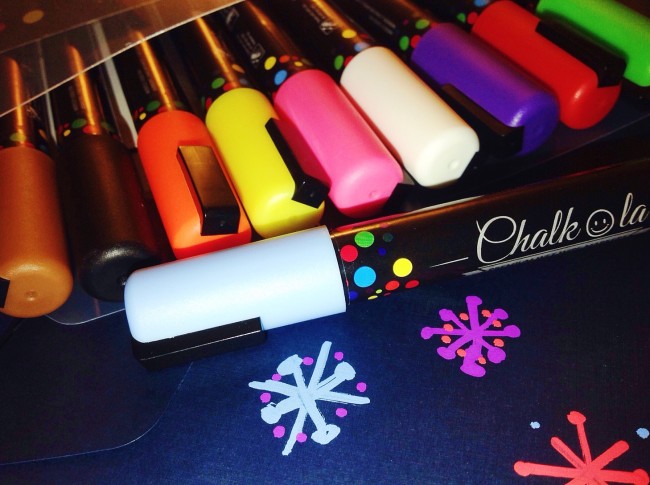 I picked up the mail with my new markers on the way to a coffee shop and started doodling on paper I had with me. Not erasable, obviously, but they look great on paper. The ink seems to sit on top of it, rather than being absorbed like regular marker ink, so the colors even stand out brilliantly on dark backgrounds. They are much more vibrant and less smudgy than chalk.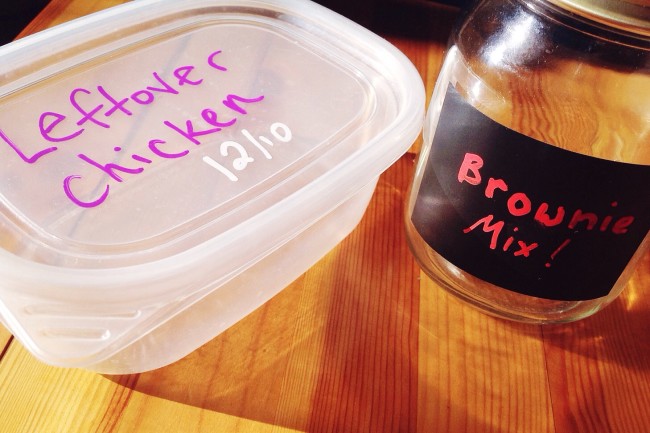 How They Wipe Off
Using a wet cloth or paper towel, I was able to wipe the ink off most surfaces I tested. Some colors just required more elbow grease than others.
Oddly, it didn't completely wipe off plastic film covering the acrylic I used in my gift guide video (so I just removed it and wrote directly on the acrylic instead – that wiped off perfectly). It didn't work great with the chalkboard label I tried, but since actual chalk didn't come off very well either, I think the issue is actually with the label.
Like with anything, you'll want to test a small, inconspicuous corner before going crazy on a larger area.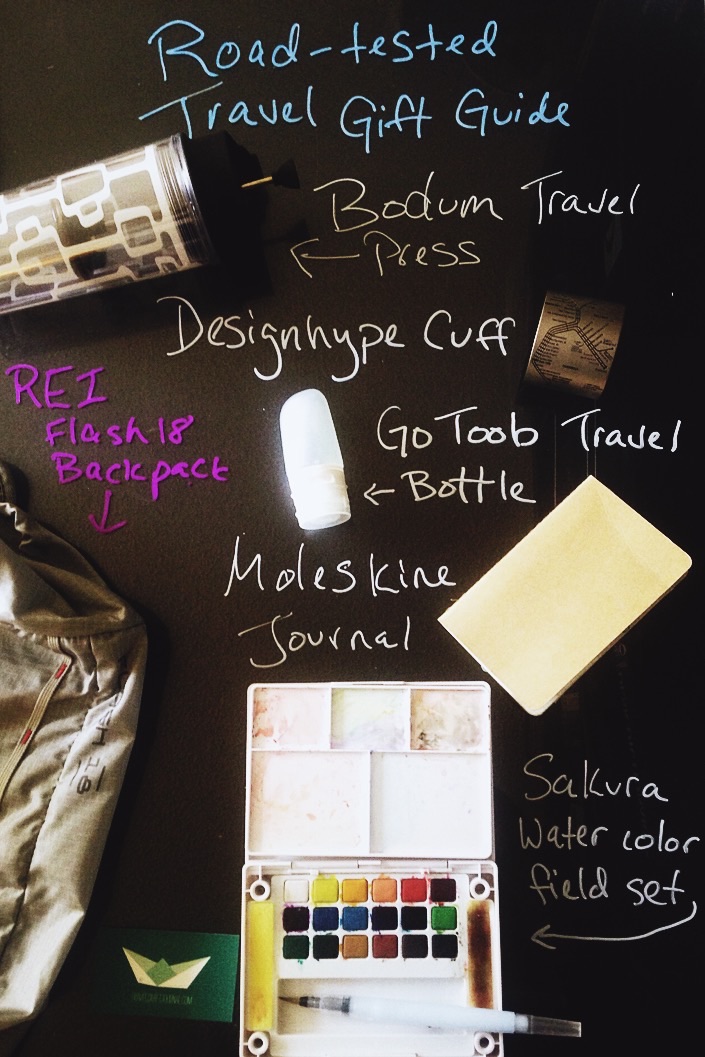 The One that Didn't Work
The record scratch moment came after I realized there were two markers I hadn't used yet in my testing. When I shook the black marker to get it ready to use the first time, it sounded (and felt) a little different, like something was stuck maybe, and the ink never came out. I tried the last marker, the orange one, and had no problem. But I was never able to get the ink going on the black marker.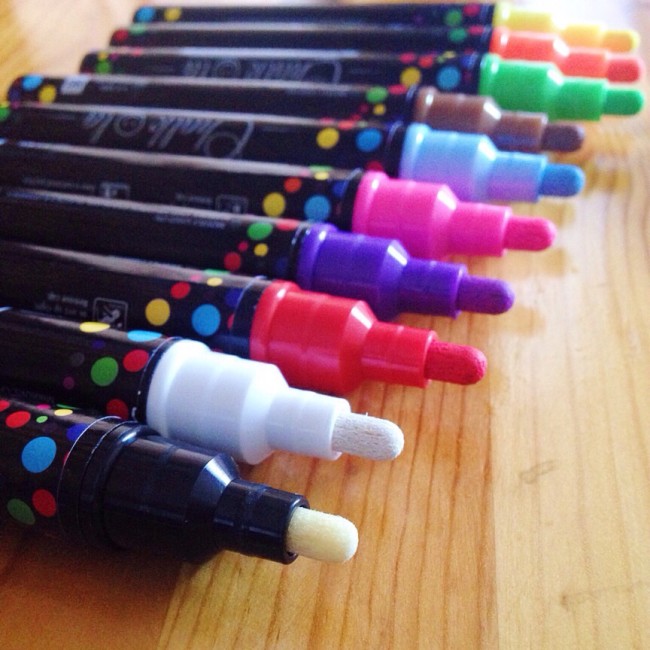 I looked at other online reviews, and this doesn't seem to be a common problem with Chalkola markers, so maybe it was just a fluke. You can make a quality product and still have something go wrong with a single item.
Odds are you won't have an issue. If you do, the markers are fulfilled by Amazon, so you should be able to make an exchange through Amazon.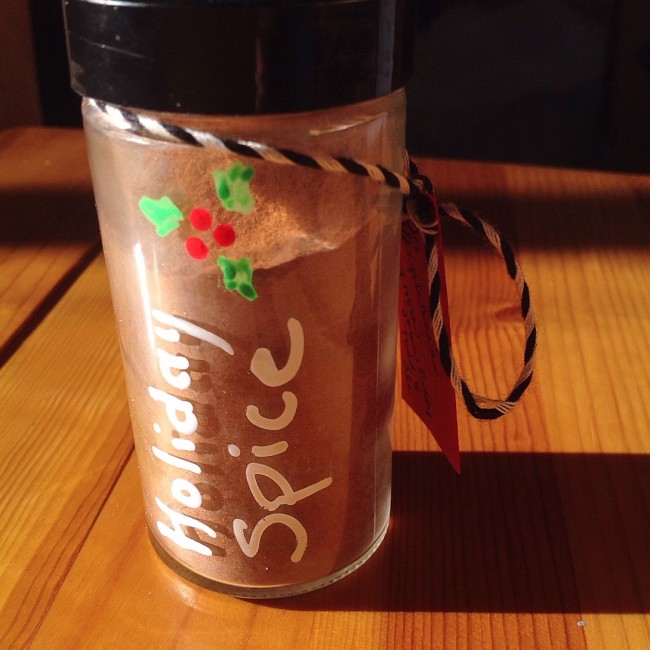 Project Ideas
Here are some ideas I came up with for these wet-erase chalk markers.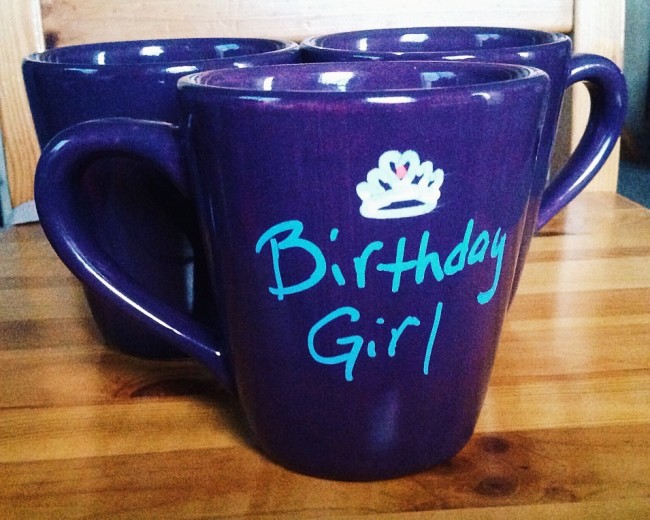 Labeling:
Ditch the Solo cups, and use real glasses/mugs for parties and allow guests to write their names on them.
Blank travel-size bottles. (Shampoo, moisturizer, etc.) – The color may run a bit if used in the shower.
Containers of leftovers.
Jars of baking and spice mixes.
Dishes you bring to potlucks – You can write what the food is (along with any dietary notes like vegetarian, gluten free, contains nuts, etc.) or just write your name so you get your container back.
Items you're photographing. I used these markers for my 2015 gift guide video.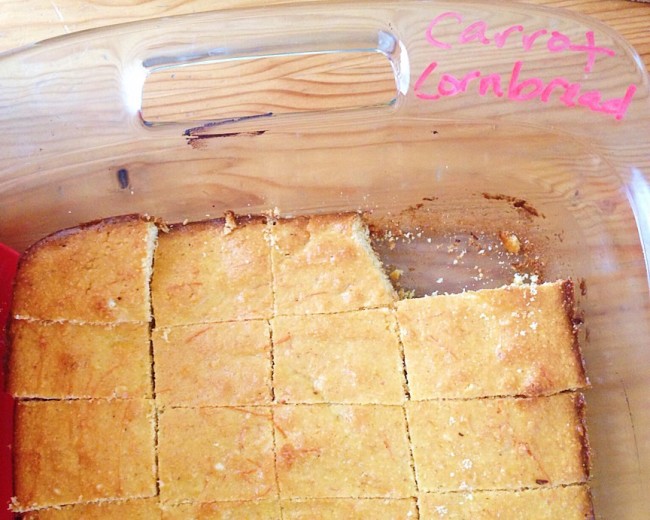 Craft:
Decorate and address envelopes.
Add neon color to photos for scrapbooking or collage.
Write on chalkboards or chalkboard-painted things.
Decorate plates for special occasions.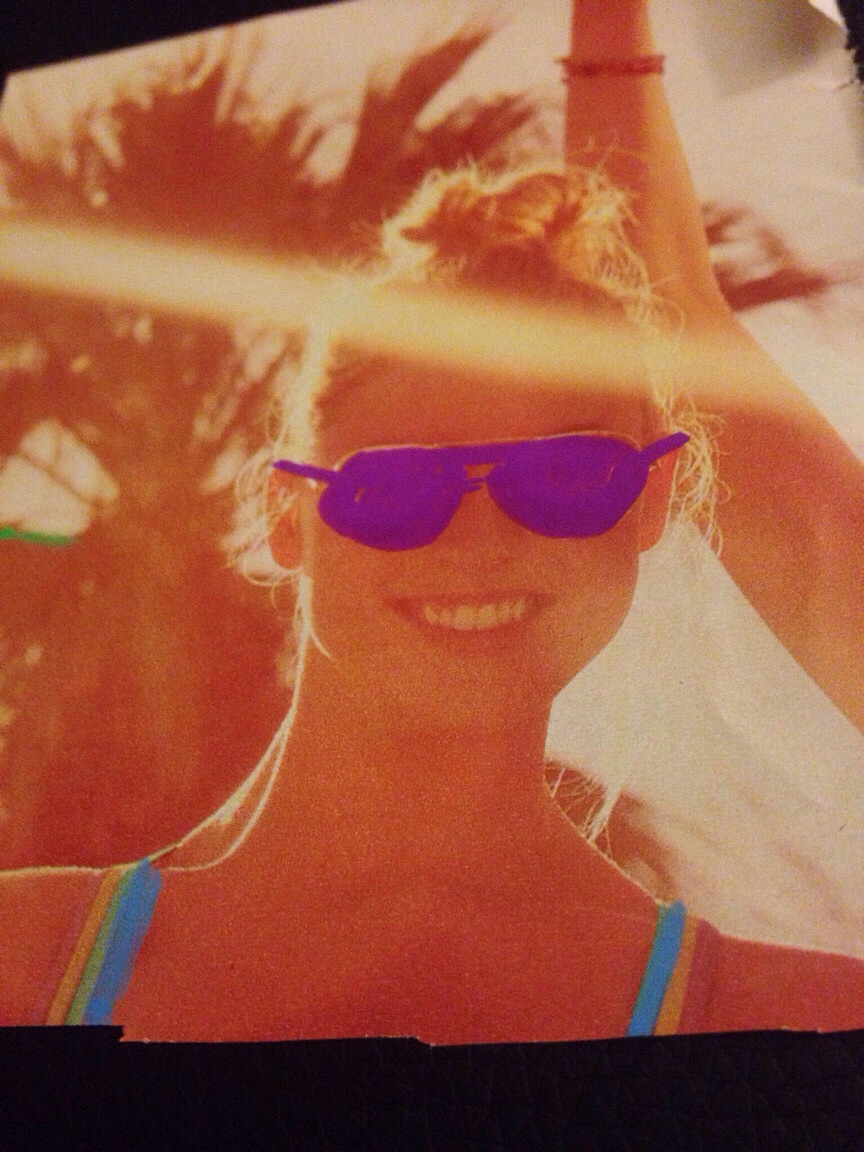 Other:
Write notes or reminders on your mirror.
Write out menus, craft fair price lists, etc.
Mark your route on laminated maps.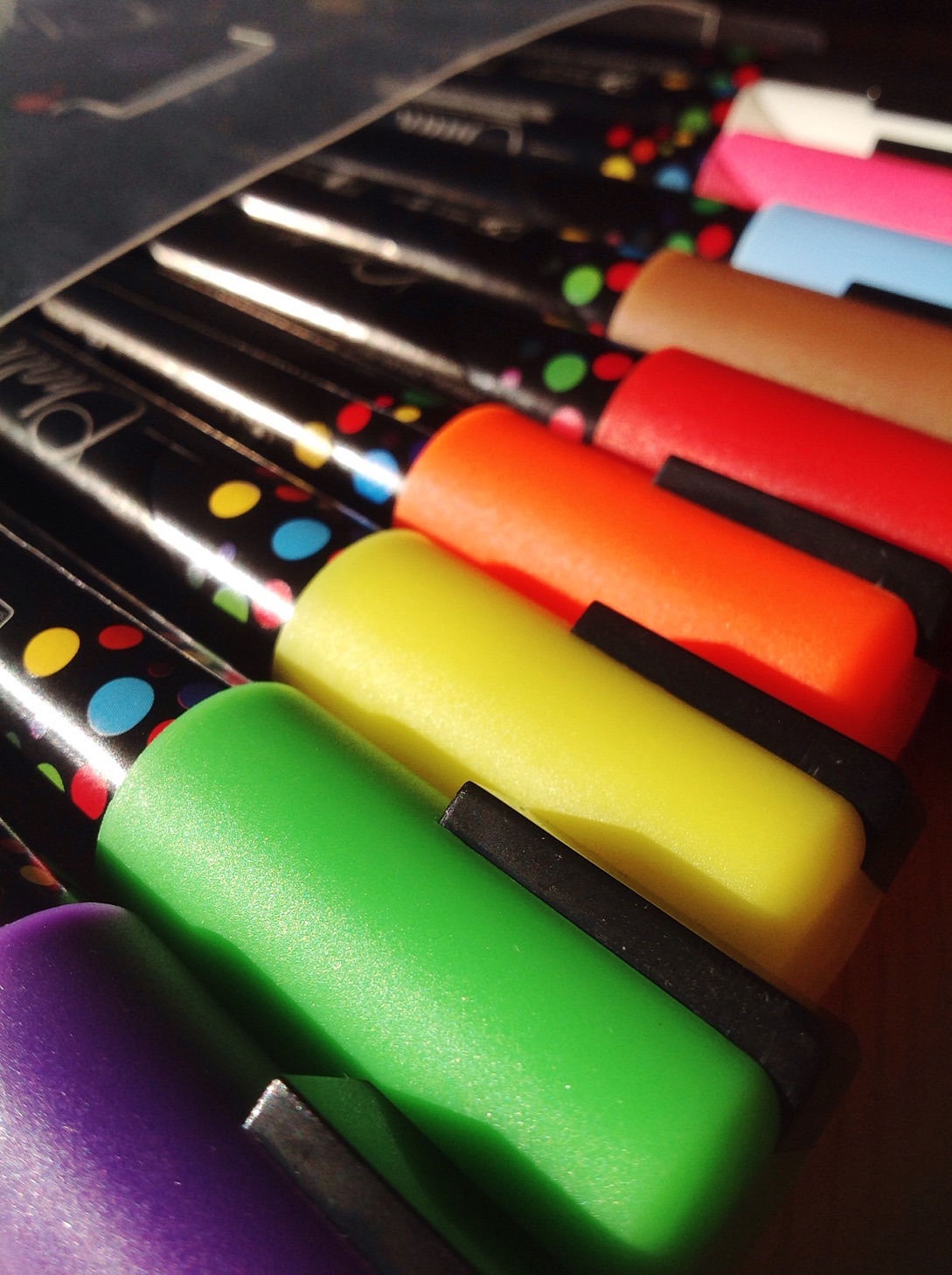 If you decide to give Chalkola Markers a try, here's where to find them and a code for 20% off:
20% off on Amazon when you use code CHALK20A
—
These markers were provided to me for review by Chalkola.