There's a lot to see and do in Seattle. But if you don't have much time, it's actually a great place for a short trip too. Many of the main attractions are close together, so it's easy to see the sights (and then move on if you want to see more local spots).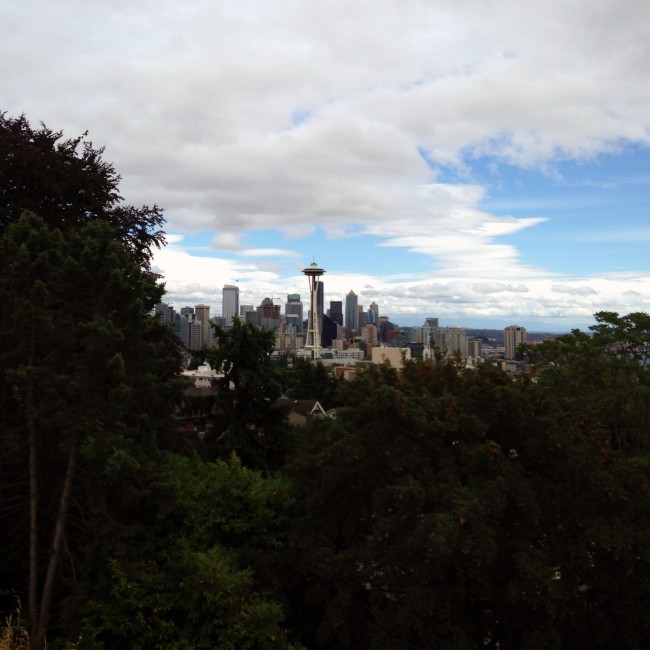 On a recent, all-too-short trip to Seattle, I set out to see some of the city's highlights in one day.
Originally, we had planned to spend most of the day downtown. I won't bore you with the details, but things came up, plans shifted, schedules changed, and that didn't happen. But it was still a fabulous day in Seattle.
Tip one: Have a plan…and be ready for it to change.
If you want to see as much as you can in a short amount of time, you don't want to leave it totally to chance. Having a plan as a starting point will also help when things inevitably change.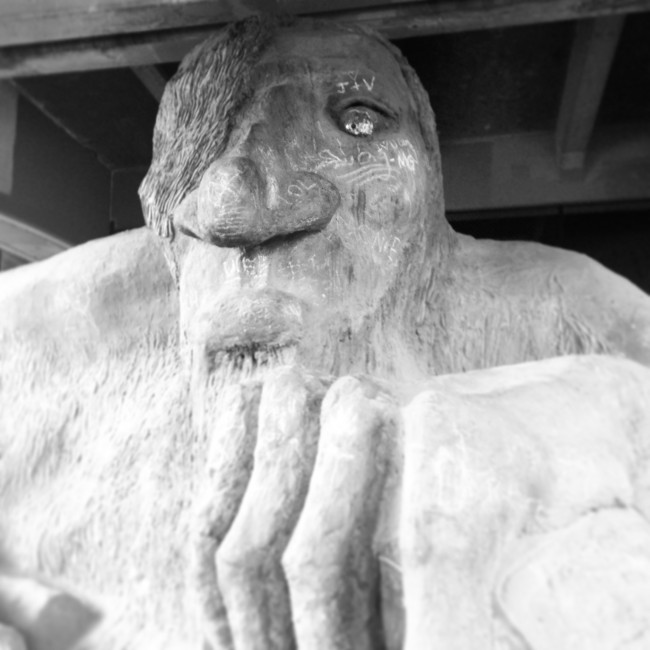 Morning: Fremont
Coffee is a great way to start a day in Seattle. Okay, coffee is a great way to start the day anywhere. Seattle does have an exceptional range of options, though, including dozens of independent shops and locally-based chains.
I met a friend at Milstead & Co., which shares outdoor seating with History House of Greater Seattle, a museum of Seattle's neighborhoods and sculpture garden. It's located in the Fremont neighborhood, which is known for its Sunday market, public art (including the eponymous Troll), and supposed position at the center of the universe.
Tip two: Think geographically. Group sightseeing by neighborhood. Remember to allow for transit time and traffic.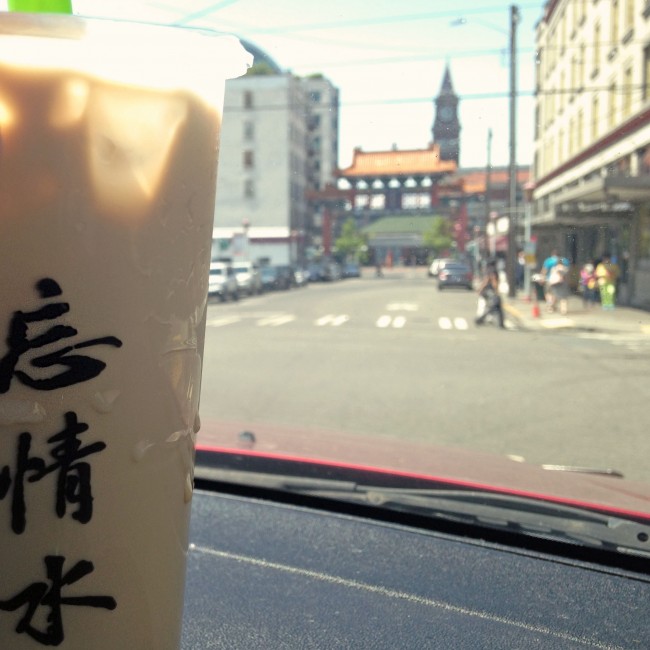 Midday: International District
Midday, we headed downtown. I needed to stop by the Visit Seattle office to pick up my press kit and CityPasses. That placed us conveniently near the International District (a.k.a. Seattle's Chinatown) at lunch time.
The International District has tons of great food options. My brother and sister-in-law wanted to introduce me to dim sum, so we went to their favorite place, Jade Garden. As far as I can tell, the better the dim sum, the worse the parking. It works out, though. What goes down is that cart after cart filled with steaming hot, hard-to-turn-down dumplings and assorted goodies wheels up to your table, you try lots of delicious things that you may or may not be able to identify, pay the bill, and waddle out. At this point, you probably realize a longer walk to your parking spot is a good idea.
You can grab some boba tea before heading to your next stop. While you're in the neighborhood, look for dragons climbing telephone poles, the Chinatown Gate, and a giant chessboard in Hing Hay Park.
Tip three: Make food and beverages part of your experience of a place, rather than an afterthought.
Afternoon: Seattle Center
Seattle Center is home to a number of attractions, fountains, gardens — and free wifi!

Space Needle
The iconic Space Needle is obviously a super popular destination. Fortunately, whoever's in charge there is pretty efficient. There are separate lines for people purchasing tickets, with general admission, with a scheduled a time to go up, and for CityPass holders.
The CityPass really does save a lot of time, so, even if your trip is too short to see all the sights, it may be worth it for the quicker access.
Even the elevator ride is maximized, with the operator spouting facts about the Space Needle on the ride up. I was concerned it might be a bit nerve wracking to watch out the windows as we ascended, but it wasn't. It takes about 45 seconds to get to the top, and it feels a bit like you're just slowly floating up there.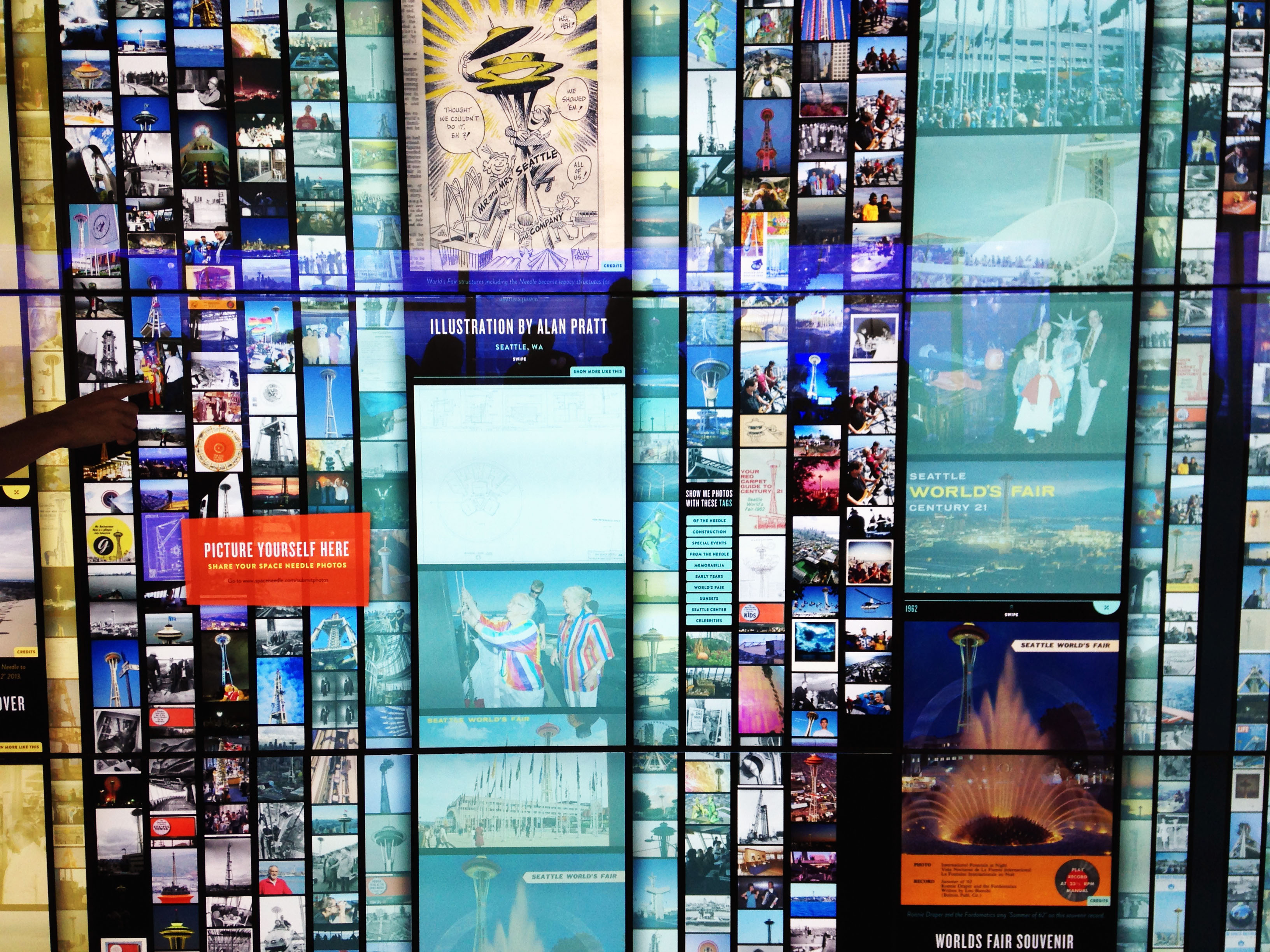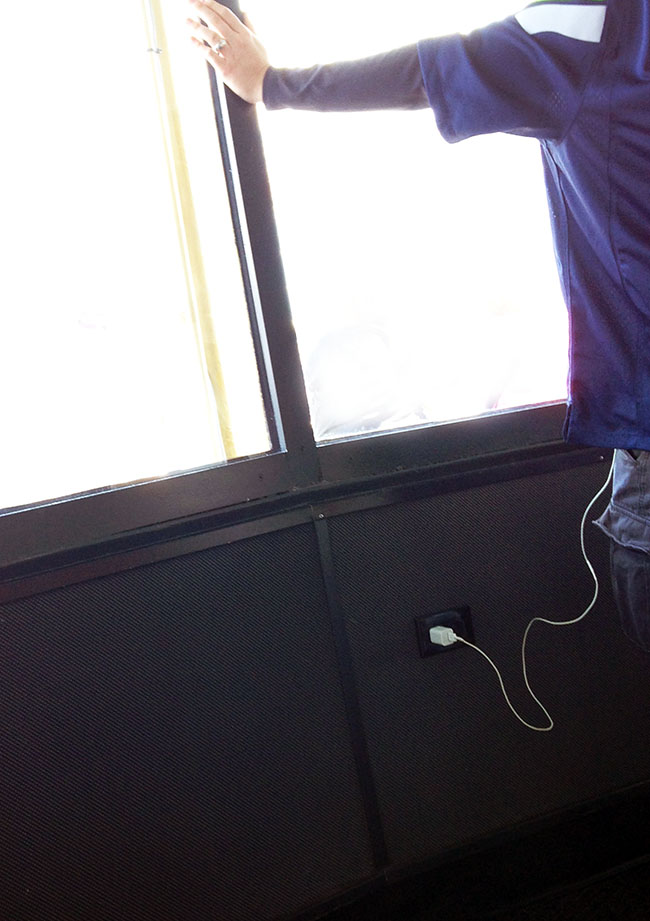 You step out of the elevator into a room that wraps around the building. There is a huge interactive display that a crowd of people could check out at once (the "Skypad"), souvenirs for sale, and a restaurant with wine specials. I'm thinking the next time I'll plan to just go up, find a table next to the window, and sip on merlot. We even noticed a few outlets in case you drain your phone taking photos.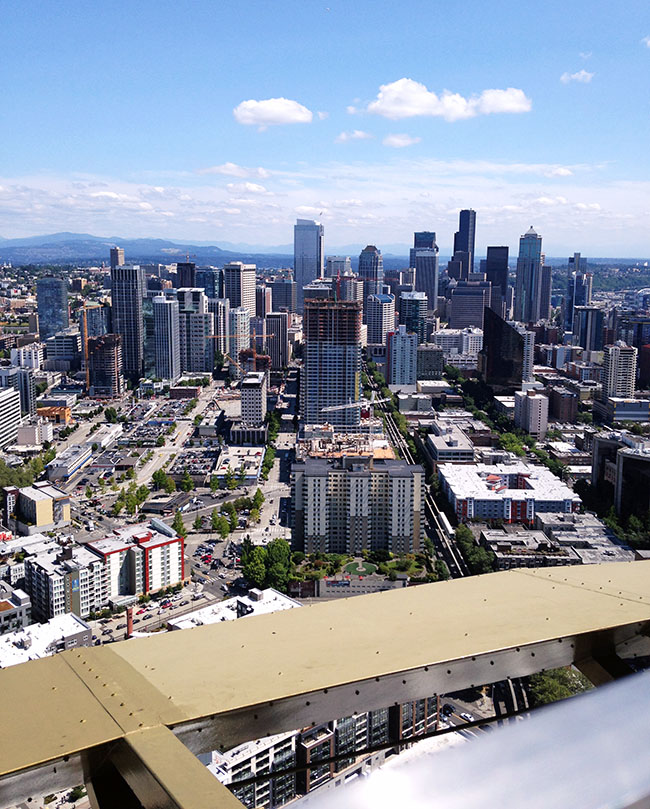 Outside is the observation deck with viewing telescopes and a few benches. You can walk around the whole building and see for miles – Puget Sound, the downtown skyscrapers, the roofs of museums, a swimming pool or two, and far off residential neighborhoods. There was a nice breeze at the top. Despite the fact that it was a busy day, it wasn't hard to find spots next to the rail to look off in the distance, and it actually felt peaceful up there.
At the bottom of the Space Needle is a large gift shop inside and the Chihuly Garden outside.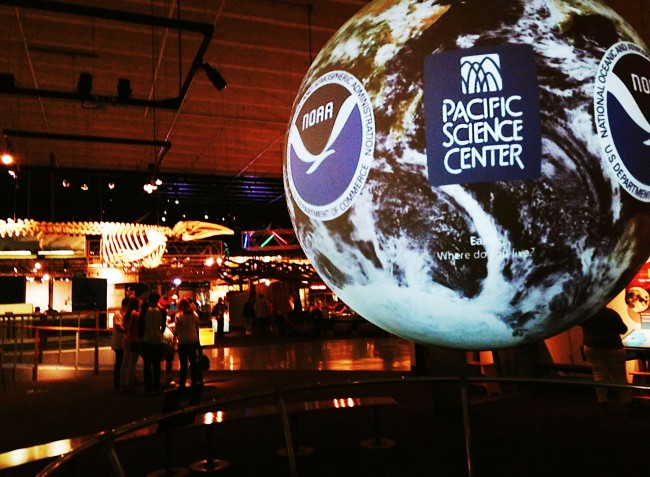 Pacific Science Center
We, unfortunately, ran out of time for the espionage exhibit at Pacific Science Center, but we did have a look around. There were animatronic dinosaurs and models of the solar system and even small animals in aquariums (including axolotls, the salamander-like object of the narrator's obsession in Julio Cortázar's short story. I'd wanted to see one since reading it in a Spanish lit class.) We visited the Tropical Butterfly House and smiled that this large butterfly had attached itself to one man's pant leg and was apparently never leaving. My two-year-old niece and 10-month-old nephew enjoyed playing in the water at the stream table. Everyone with the museum was super nice and helpful.
Also near Seattle Center/Waterfront

Evening: West Seattle
We walked through the lovely Seacrest Park at sunset and took in the view of downtown and with a minature Space Needle across the water. For a longer walk, Alki Beach is nearby.
We went to the fusion restaurant Marination Ma Kai, which got its start as a food truck and now boasts several locations around Seattle. The day we were there it was packed with uniformed high school band kids for some reason. There must have been an event or competition that day. Anyway, they provided some free entertainment while we waited in line.
Tip four: Savor the moment. Whether you're ascending a tower or simply watching ripples across the water, do your best to enjoy the view.
Alternate plans:
Pike Place Market is near Seattle Center, and you could start there instead of Fremont. Go early for fresh produce and fish or later for retailers, bars, and buskers.
Some people with a tight schedule skip the top of the Space Needle for more time in museums or seeing other sights.
If you're not interested in the big attractions, you could also spend less of your day downtown and more at local hangouts.
Check out Visit Seattle's one-day itinerary and day trip list for other alternatives.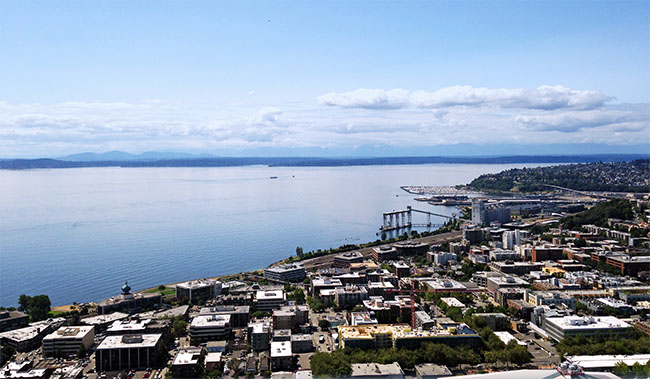 Bringing a Bit of Seattle to You
If you can't head to Seattle just yet (or if you want to keep your trip fresh in your mind), here are a few ideas to make the Emerald City feel a little closer:
—
A big thank you to Visit Seattle for providing information and CityPasses and to Ian Smith and Christine Smith of Four Windows, who acted as my city guides and assisted with this series of Seattle posts! Congrats on the launch of Four Windows Books!