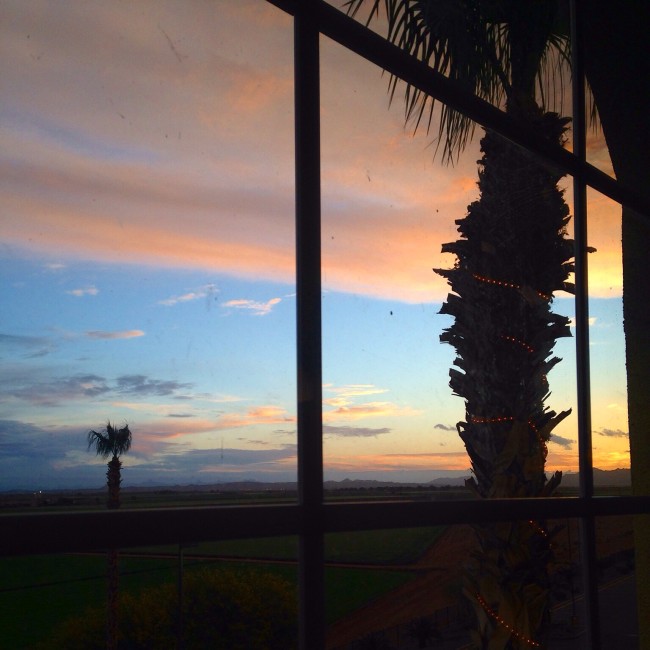 Since we arrived after dark, our first glimpse of the view out our window at Candlewood Suites Yuma was the sunrise lighting up puffy clouds and vibrant green farm fields. It was downright gorgeous.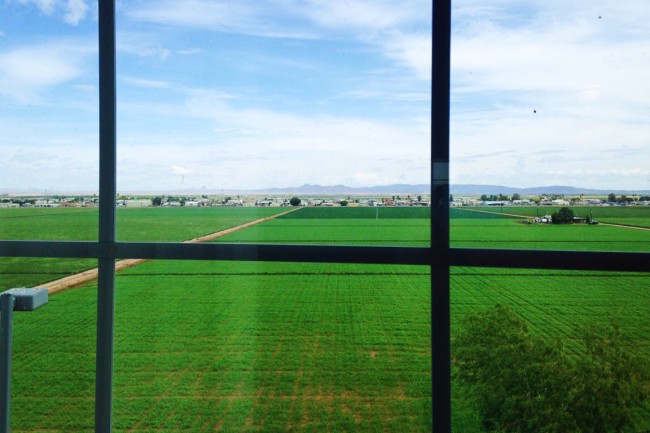 Phillip needed to be at the Marine Corps Air Station (MCAS) Yuma base at 0700, I got the coffeemaker going, and we got ready to head out.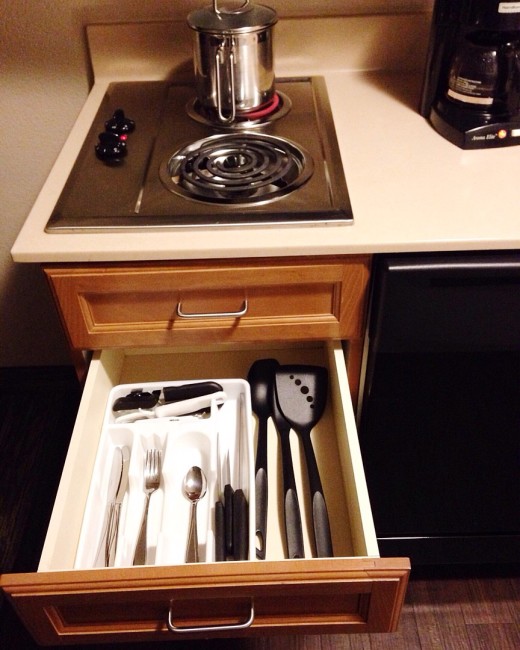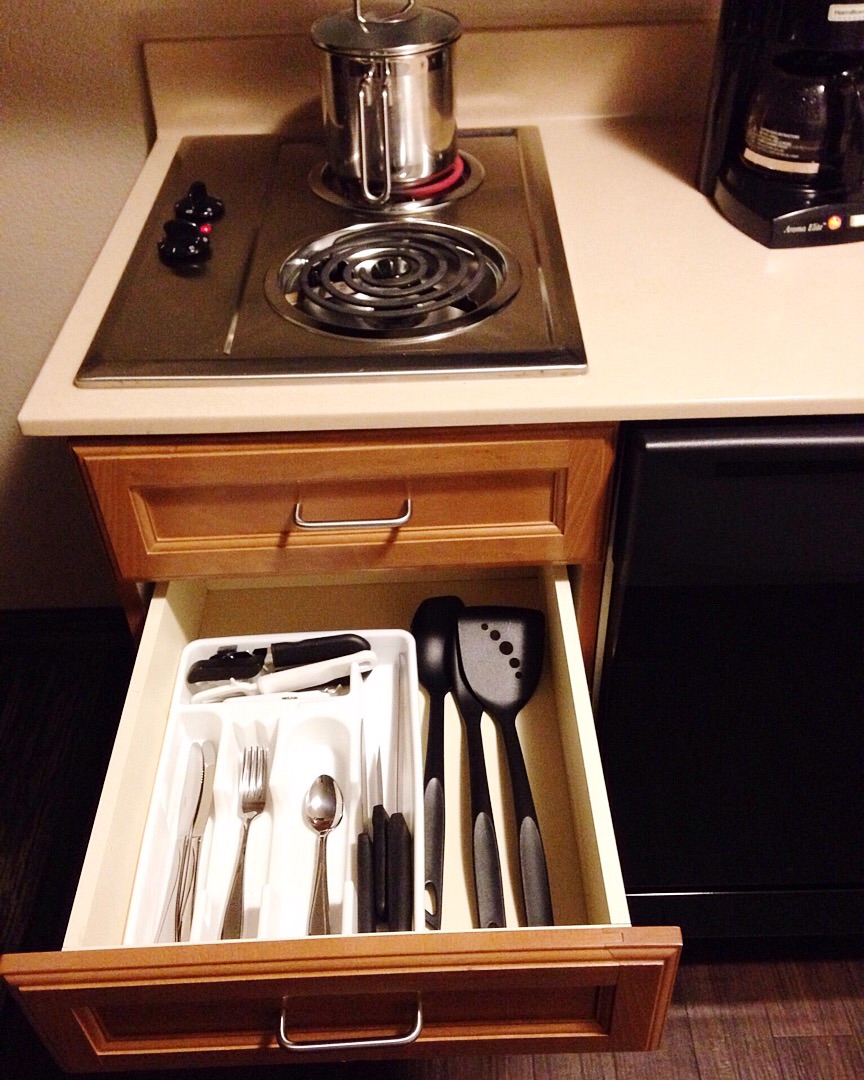 On Base
Phillip, who is nearing the end of his seminary master's program, had arranged to shadow a military chaplain in Yuma for a day. I'd meet back up with him, the chaplains, and a couple of their wives for lunch and a quick tour of the base.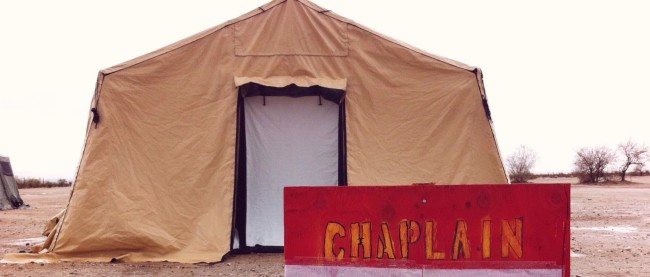 The rest of the day, my mission would be to learn about this desert city in the southwesternmost corner of Arizona.
MCAS Yuma is typically closed to civilians, but they do hold an open house event once a year. It alternates between an air show and something called the Patriot Festival that features local bands, an obstacle course, singing competitions, and bouncy castles.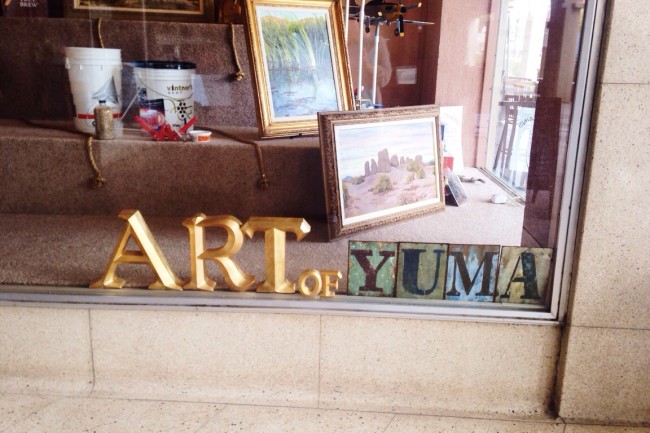 Art

Pottery
I found a couple pottery shops in the Brinley Avenue Historic District on the North End of town.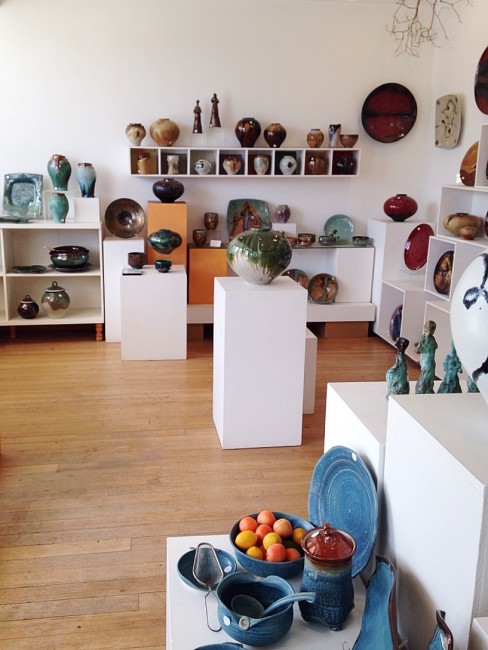 I visited Tomkins Pottery, which was filled with fabulous work by artist-owners Neely and George Tomkins. Their dog Joe helps them run the shop, and they also work out of the studio in back. A green honey/sugar bowl followed us home, but, really, I'd love one of everything there.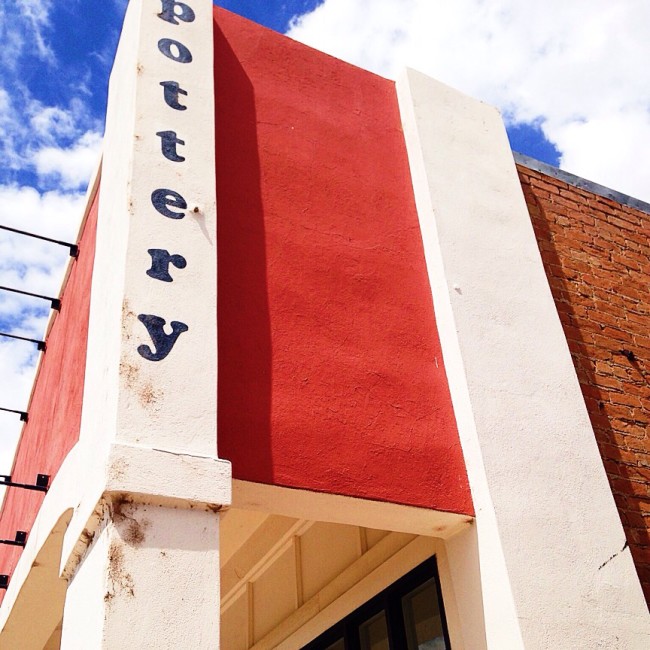 Across the street is Colorado River Pottery, the shop and studio of Jan Bentley.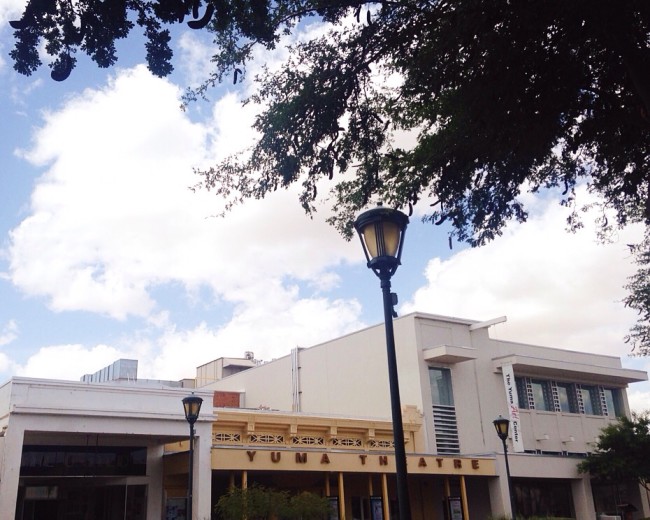 Yuma Art Center
The Yuma Art Center has galleries to exhibit local art and is also an event space.
Historic Yuma Theatre
The Theatre next door has been a performance venue since 1912. It currently features plays, concerts, film screenings, workshops, and choir concerts – with two Art Deco mermaid murals always in the audience.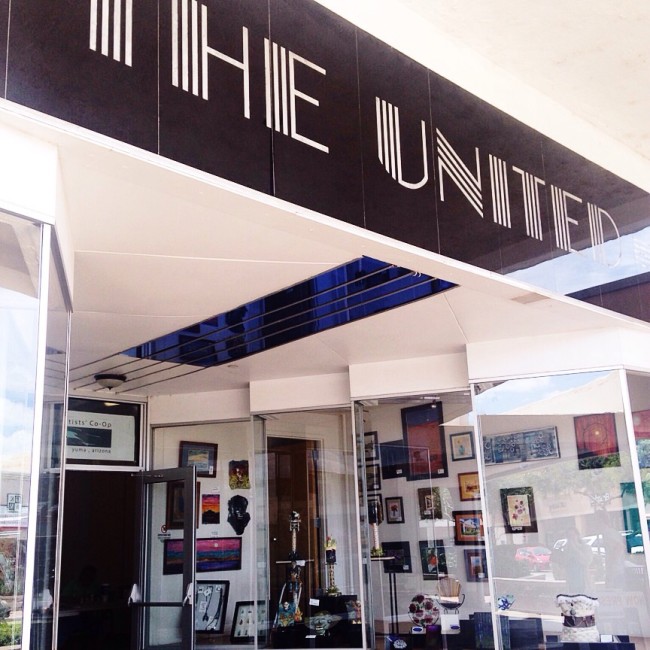 Artist Co-op
On the other side of the Theatre is the United Building, home of the North End Artist Co-op.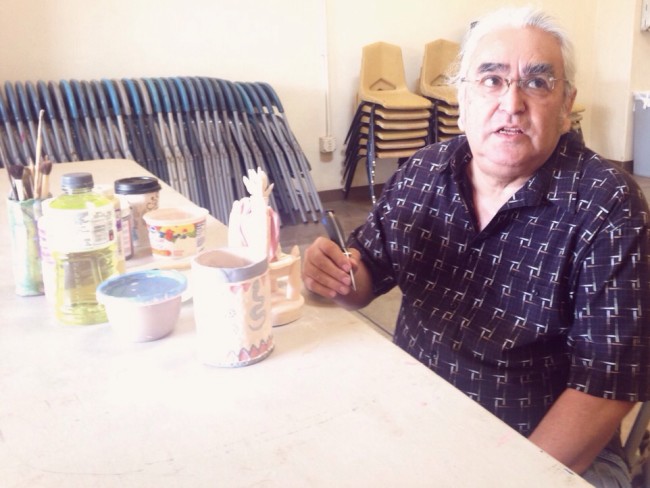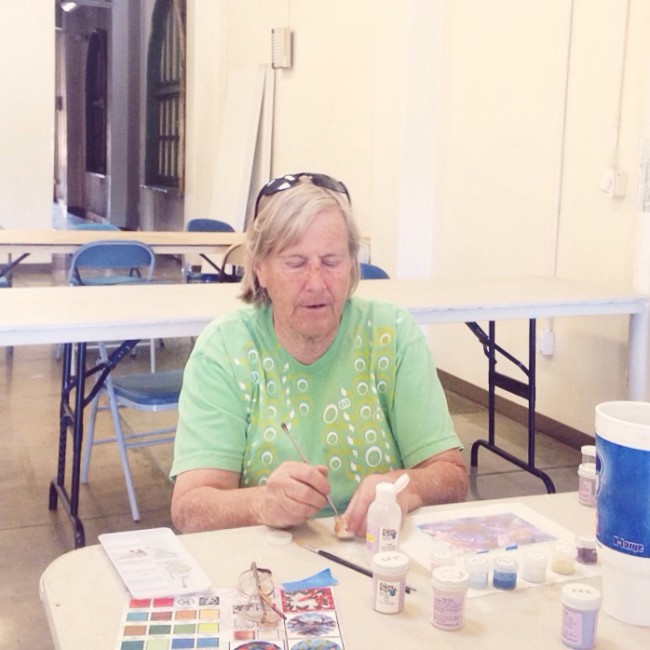 We met artists Larry Yanez, who was installing his art in one of the big storefront windows, and Judy Phillips, who graciously stopped what she was doing to answer questions and give us a full tour of the space, all the way back to the metal trash cans used for making raku pottery.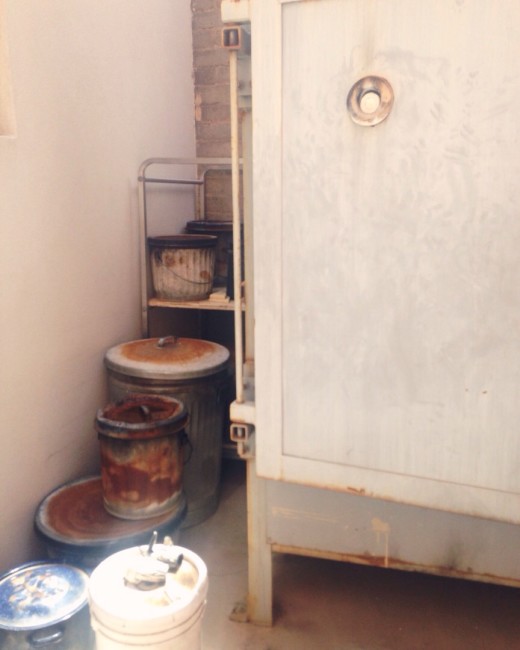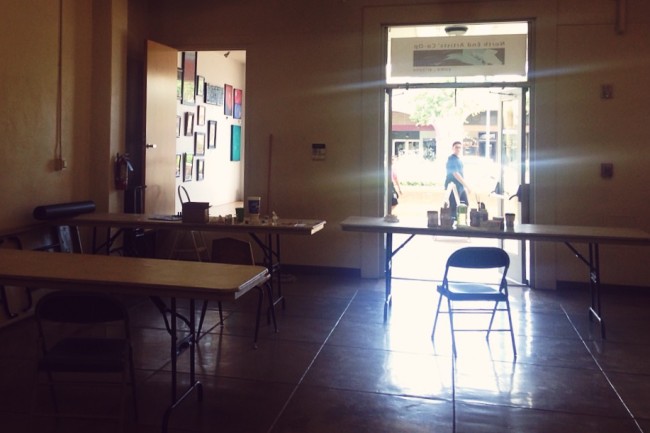 The co-op itself has 13 members, who are all local artists (many of them art educators) but they offer classes open to anyone. On Saturdays, members without their own studio space can come and work, share information and materials, and use the kilns and other tools.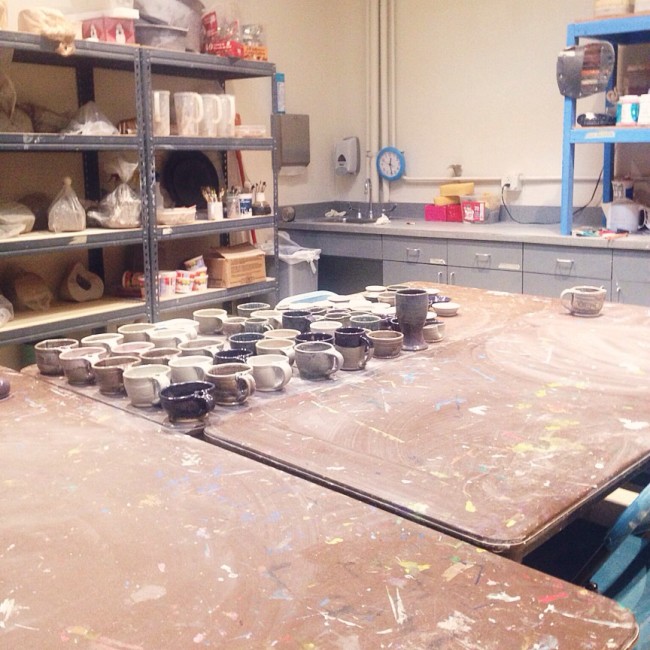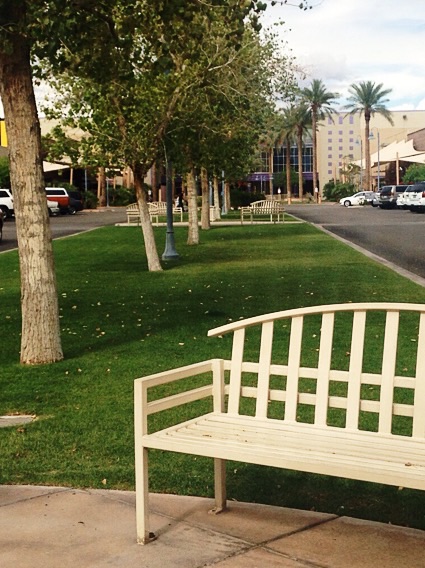 Jazz
The Yuma Jazz Company quintet performs regularly around Yuma: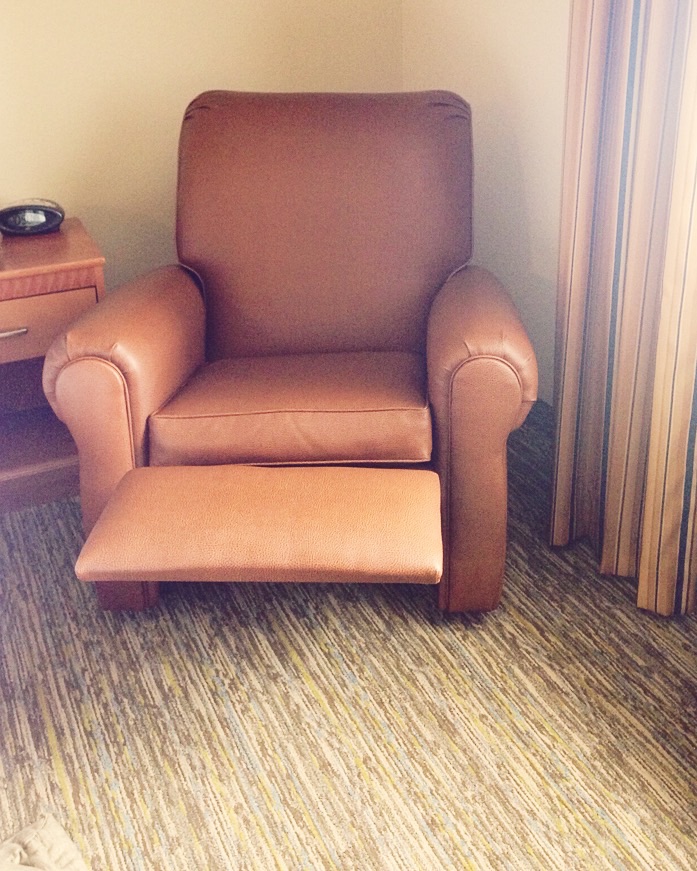 Yuma Suite-y
I was super relieved when Phillip called to say one of the chaplains would give him a ride back to the hotel, because I was already there – kicked back in the recliner with a glass of wine – and not ready to move.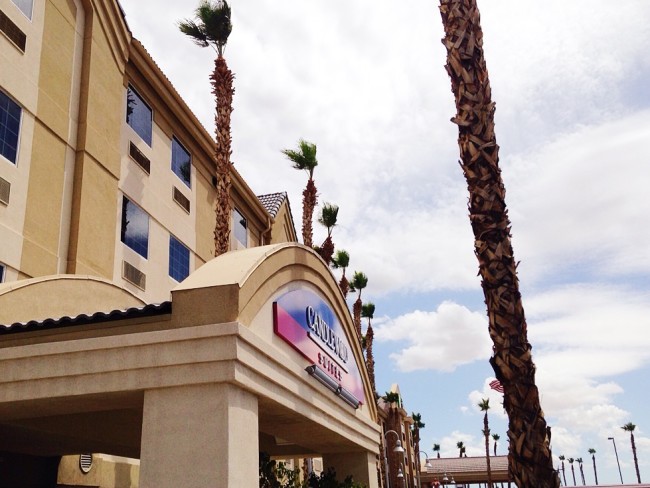 Candlewood Suites
The deal with Candlewood Suites is they're an extended stay hotel designed for the type of do-it-yourselfers who probably clean up before housekeeping comes and would rather make breakfast exactly the way they want it than take their chances at a buffet.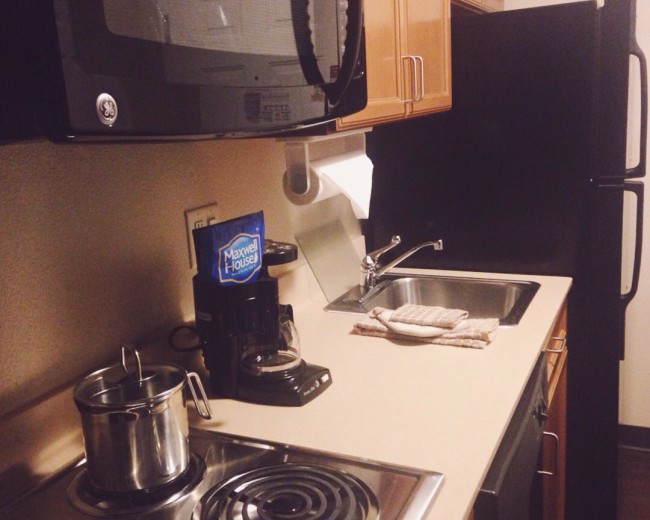 So Candlewood Suites offers weekly housekeeping, a free laundromat, and full kitchens stocked with cooking/serving essentials. They have a bunch of stuff you can borrow if you're looking for something beyond what's in your room – crockpots, blenders, board games, wine glasses, movies, and barbecue tools for the grills on the patio. You can even purchase food onsite in the "Candlewood Cupboard." It's always open and operates on a self-pay/honor system.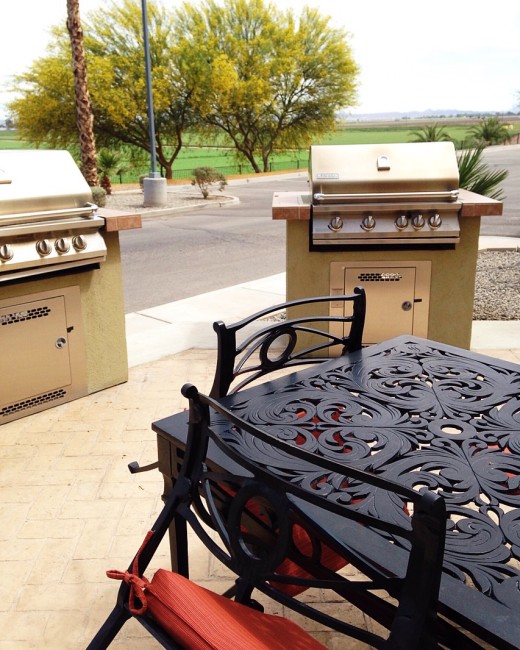 Anyway, all that to say, we definitely could've just holed up in our room for the evening. But we had heard great things about a restaurant called Julieanna's, so I pried myself out of the recliner, and we went to check it out.
It was worth it.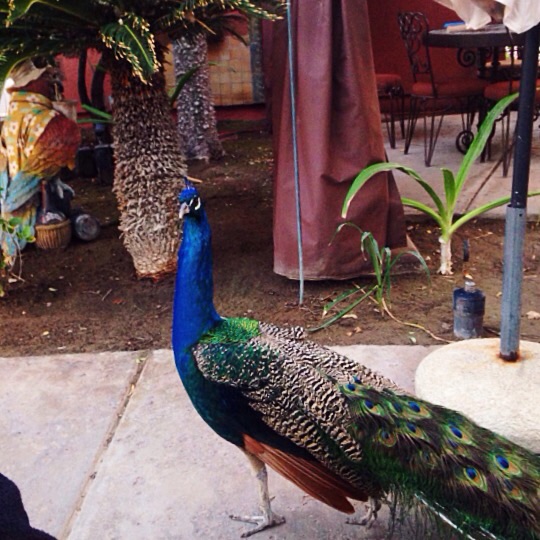 Julieanna's
The locals we talked to raved about Julieanna's Patio Cafe. It has a romantic yet relaxed atmosphere and a tropical motif. There are cozy booths inside and an expansive patio outside with mosaic tabletops, a macaw perch area, and a peacock strolling around.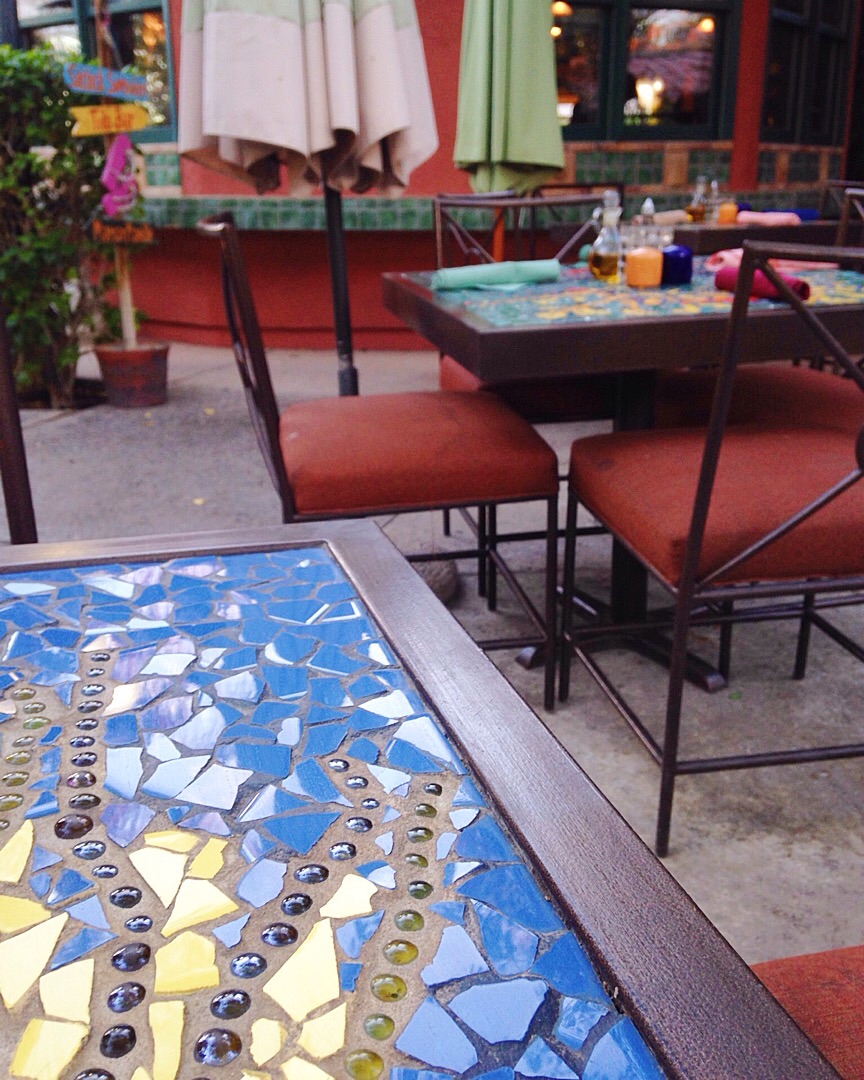 The menu includes a selection of seafood entrees and appetizers, tasty-looking salads, as well as sandwiches and burgers. I ordered salmon served with sautéed spinach and heirloom tomatoes. In.sane.ly. good. Phillip opted for a classic French dip, which I can confirm was also delicious.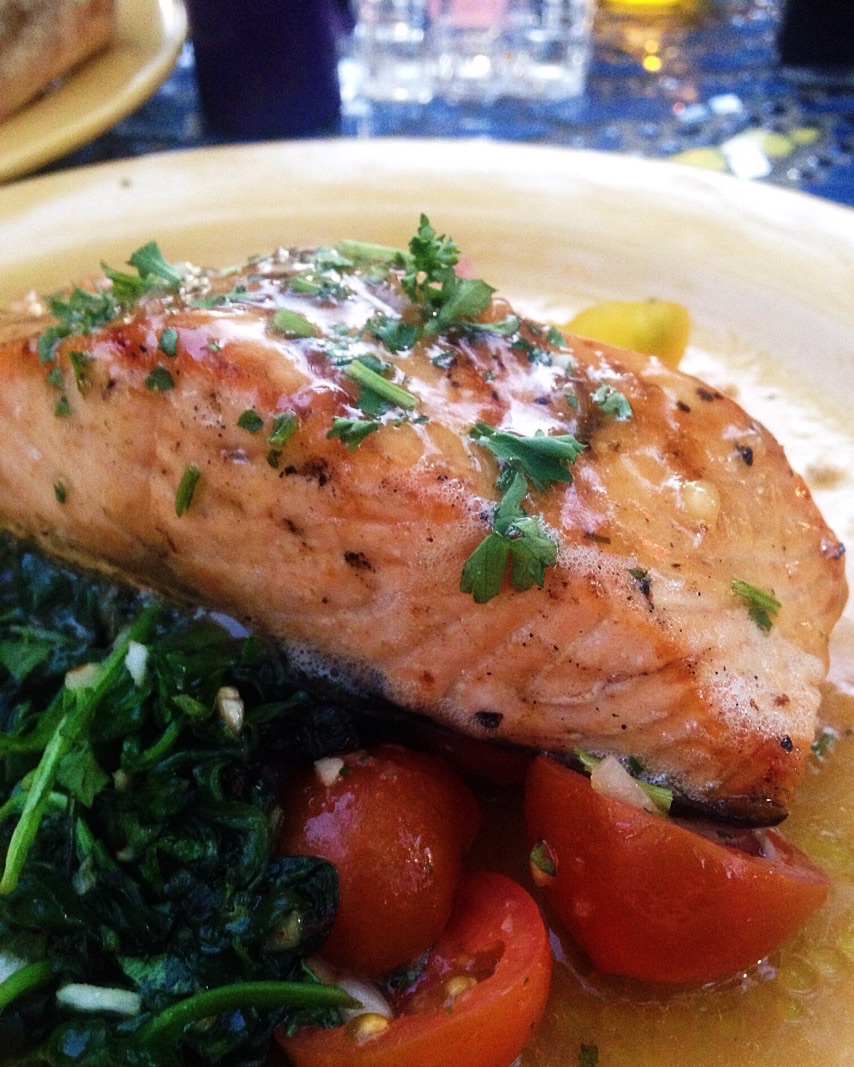 The servers were friendly, helpful, and accommodating without being overbearing.

Music
By the time we arrived, the macaws had already gone home for the day, and the Yuma Jazz Company was getting ready for their set on the patio. The peacock would randomly chime in while they played – so funny!
We enjoyed the quintet's performance. They played several of their own compositions and gave a little background about what inspired each one, which made you feel more acquainted with new songs. It was all great except for a few too many reminders about the tip jar. After about the fifth one, I was rooting for more peacock cries.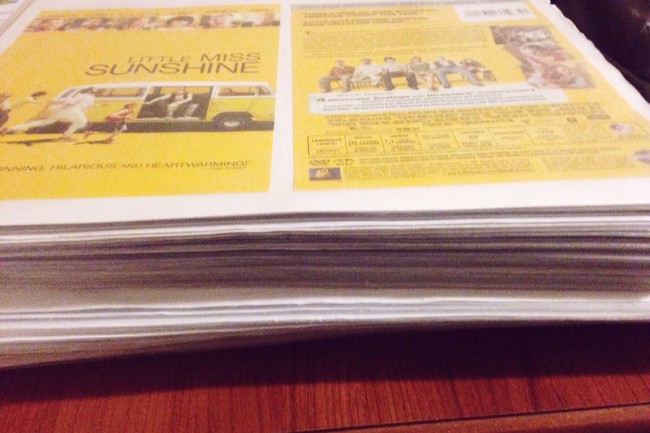 Sunshine
Earlier in the day, I had made a wrong turn and ended up at a place called Catherine's Cupcakery. So a chocolate strawberry cupcake was waiting for us in our room. Maybe it wasn't really a wrong turn.
Back in the hotel lobby, we flipped through a couple of the fat binders of DVD selections and chose Little Miss Sunshine. (Why have I not seen that before?! So good.)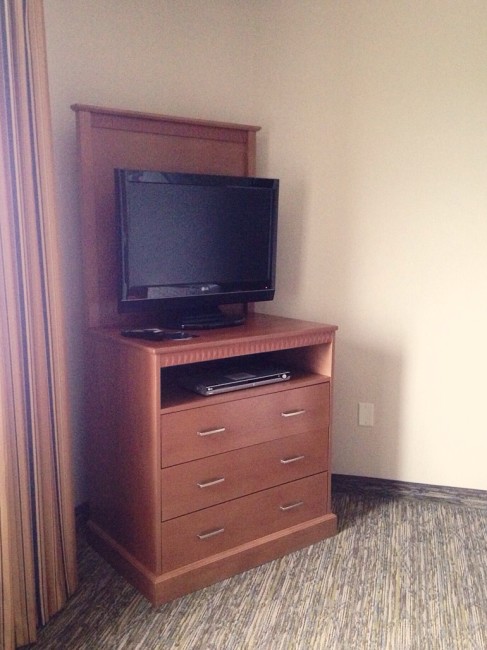 Settling in with our movie and cupcake was a great way to wind down from of our first day exploring Yuma.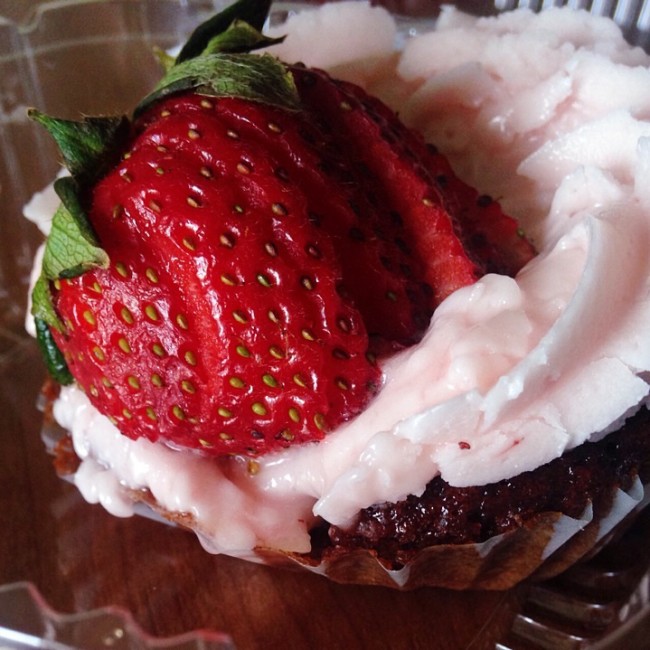 —
Part 2 is coming up in 2 weeks! In our next installment, we look for a museum gift shop without a museum, accidentally go to California, visit a date farm, and drive home through the Kofa wilderness. And, yes, there will be more Yuma puns! Yuma-ght as well get used to them!
Our stay was courtesy of IHG/Candlewood Suites Yuma. Opinions are my own and so are the puns. Pretty sure they don't endorse those.
Edited: References to "Candlewood" changed to "Candlewood Suites" for clarity and per the request of IHG Corporate Communications.