The idea of collecting trip mementos in paper bags has stuck with me since I saw it in Anna Corba's Vintage Paper Crafts awhile ago, and I wanted to give it a try during our Colorado trip this summer.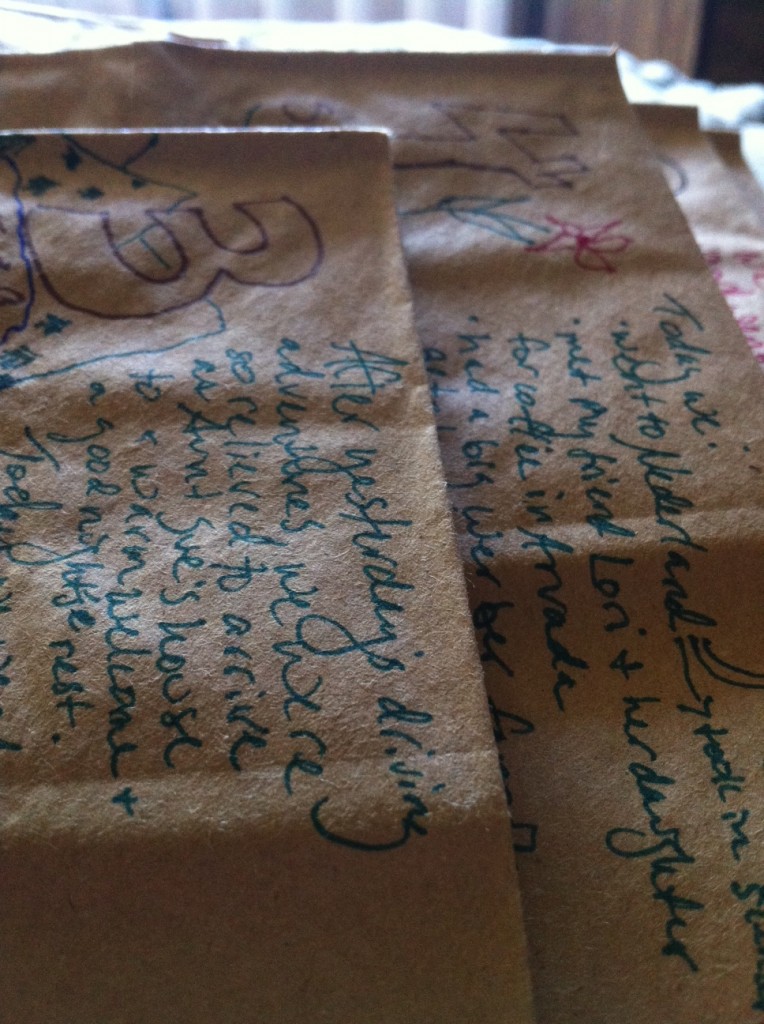 Last year when we went on our Epic California Road Trip, we picked up a postcard for each day and wrote what we did on it. However, this time, I knew we couldn't rely on always being somewhere with postcards for sale. Instead, I jotted down my notes about each day on brown paper sacks and tucked the day's mementos (maps, cards, travel information, etc.) inside. I also collected a flower for (almost) every day to press during the trip and clip onto the pages later.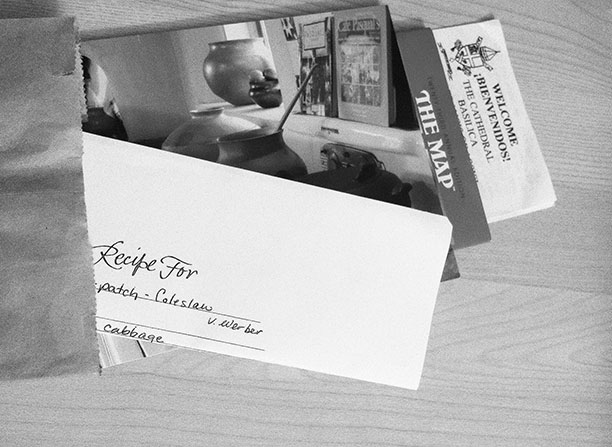 As we were getting ready to leave, I threw a stack of paper bags, pens, scissors and glue sticks into another paper bag. While Phillip drove, I numbered the bags 1-7 with the day of the week and wrote the date on each. Before I went to bed, the next day on the road, or whenever I found a moment, I would write about the day and doodle around the number with something related to what we did.
My notes got shorter toward the end of the trip, but the point was to write something – not to write a novel. I brought scrapbooking supplies, but I didn't end up using them. The days were so packed it was all I could do to keep up with my basic journalling. I decided I could put things together when I got home and just kept the items I collected (except the flowers I was pressing) in each day's bag.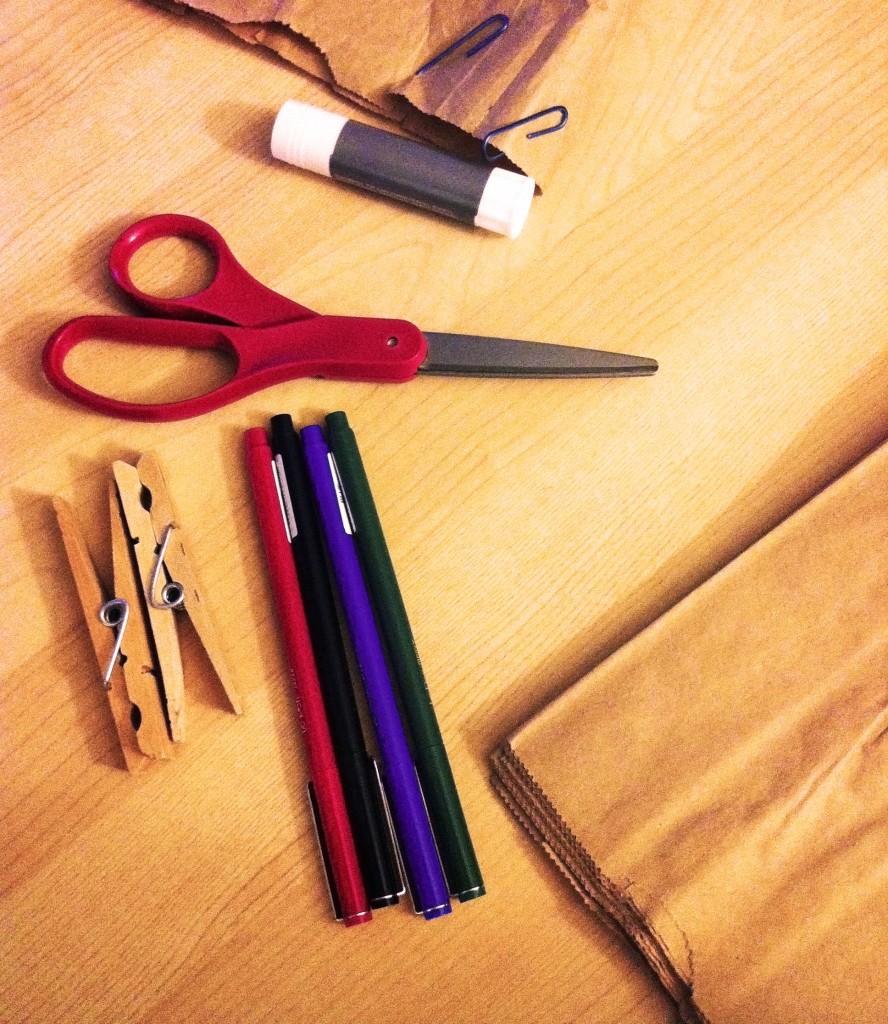 If you wanted to give this a try, here's what you need to create your own paper bag scrapbook:
A paper lunch bag for each day of your trip, plus one to store them all in. (Okay, maybe a few extra, just in case.)
Nice, archival-safe pens for journalling, doodling, or simply making a list of interesting things you saw that day.
Optional:
Clothespins or clips to keep bags together and/or clip things on outside of bags
Additional scrapbooking supplies (scissors, glue stick or double stick tape, etc.).
If you plan to collect a leaf or flower for each day, check out How to press flowers while traveling.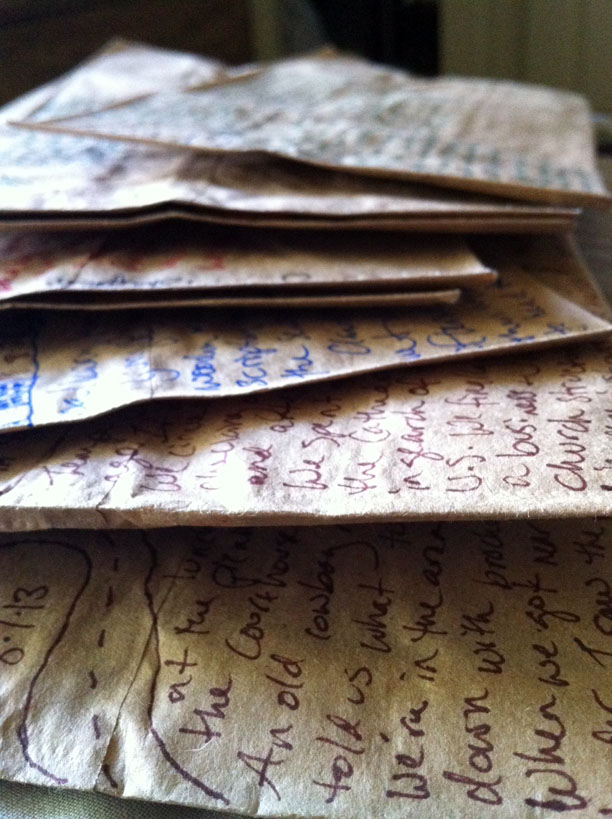 Now we're back, and I have a record of what we did each day, a book full of flowers being pressed, and the other odds and ends I picked up along the way sorted by day. 
Phillip says that if I never got the rest done, we'd still have a nice record of our trip. Me being me, I want it all finished and awesome. I'm still want to print more photos, weed out the bag contents, put the pressed flowers in clear plastic bags and attach them to each page. I don't have a great track record with finishing scrapbook projects. But I'm crossing my fingers this post will have a Part 2!