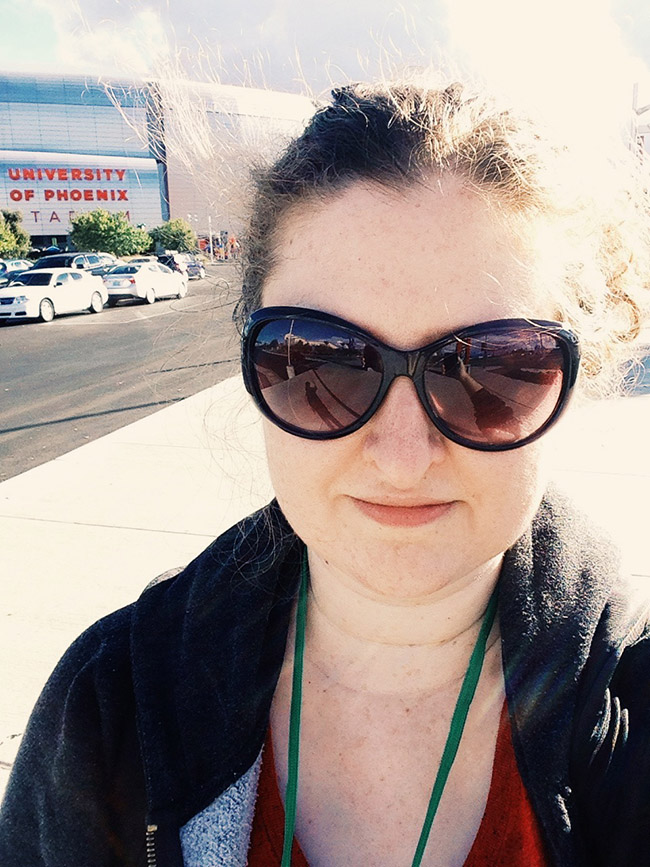 While I'm working on wrapping up my post about Phoenix Comicon Fan Fest, here's a prequel of sorts with our experience eating, staying, and hanging out in Glendale, Arizona near University of Phoenix Stadium – where a certain high profile football game will be played in a couple weeks.
(More of my top picks on my December in Glendale post.)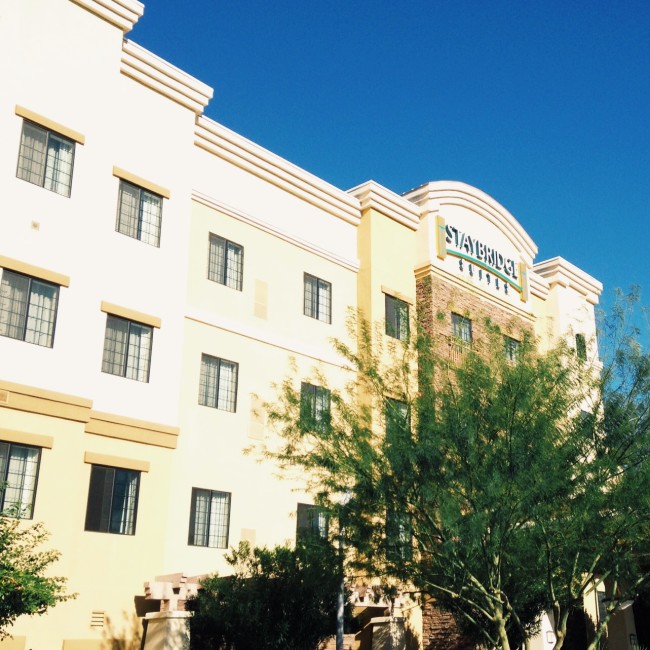 Staying
The IHG folks were nice enough to put us up at Staybridge Suites Phoenix-Glendale, so we could check it out and be super close to the event. I arrived before Phillip and texted to tell him we should just move in there. Our one-bedroom suite felt like a little apartment with a living room, well-equipped kitchen, bedroom (with a door separating it from the living space), and bathroom.

Living Space
Side note: Why does it seem like most couples consist of a morning person and a night person? Phillip and I both started out as stay-up-late people, but he's evolved into this setting-the-alarm-even-on-the-weekend guy who says things like "I'll just get up and finish this before work." It's so baffling it must be a law of nature. Anyway.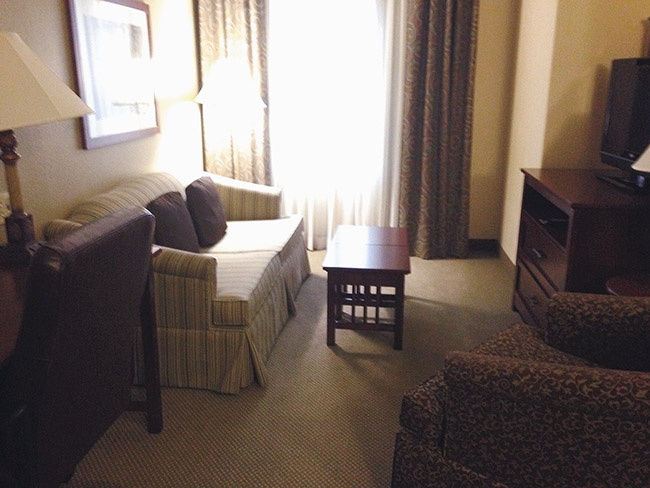 The point is that if you're traveling with someone who wants to stay up making popcorn and watching movies or whatever, and you're ready to call it a night, you can just shut bedroom the door and hit the lights. Or, if you're me, you can make yourself some dinner, plop down on the couch, get totally immersed in a National Geographic Channel show about the Bermuda Triangle, and then get sleepy and finish watching it on the second (!) flatscreen tv in the bedroom. The wild life of a geek.
Also like an apartment, it's largely self-service. Housekeeping does not come every day – unless you request it. Unlike most self-service stays, however, you can help yourself to a breakfast buffet in the mornings. So it's kinda the best of both worlds.

Kitchen
Speaking of eating, having a kitchen in the room gives you so many more food and beverage options. This isn't some minifridge-and-coffeemaker-tucked-into-a-closet "kitchenette" either, it's a full kitchen. Yes, there's a coffeemaker. There's also a grownup-size refrigerator (with an ice maker), sink, 2-burner stove, microwave, dishwasher, and cabinets stocked with dishes, cookware, and utensils. You're all set for chopping, mixing, sautéing, warming things up, and keeping things cool.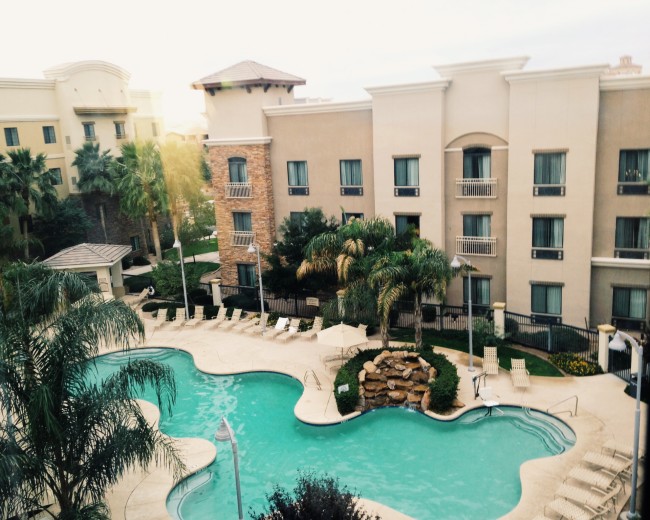 Location and Cabela's
It took me 25 or 30 minutes to walk from Staybridge Suites to the stadium. It's even closer to shopping at Tanger Outlets and Westgate Entertainment District. And directly across the street is the outdoor/hunting/fishing gear store Cabela's.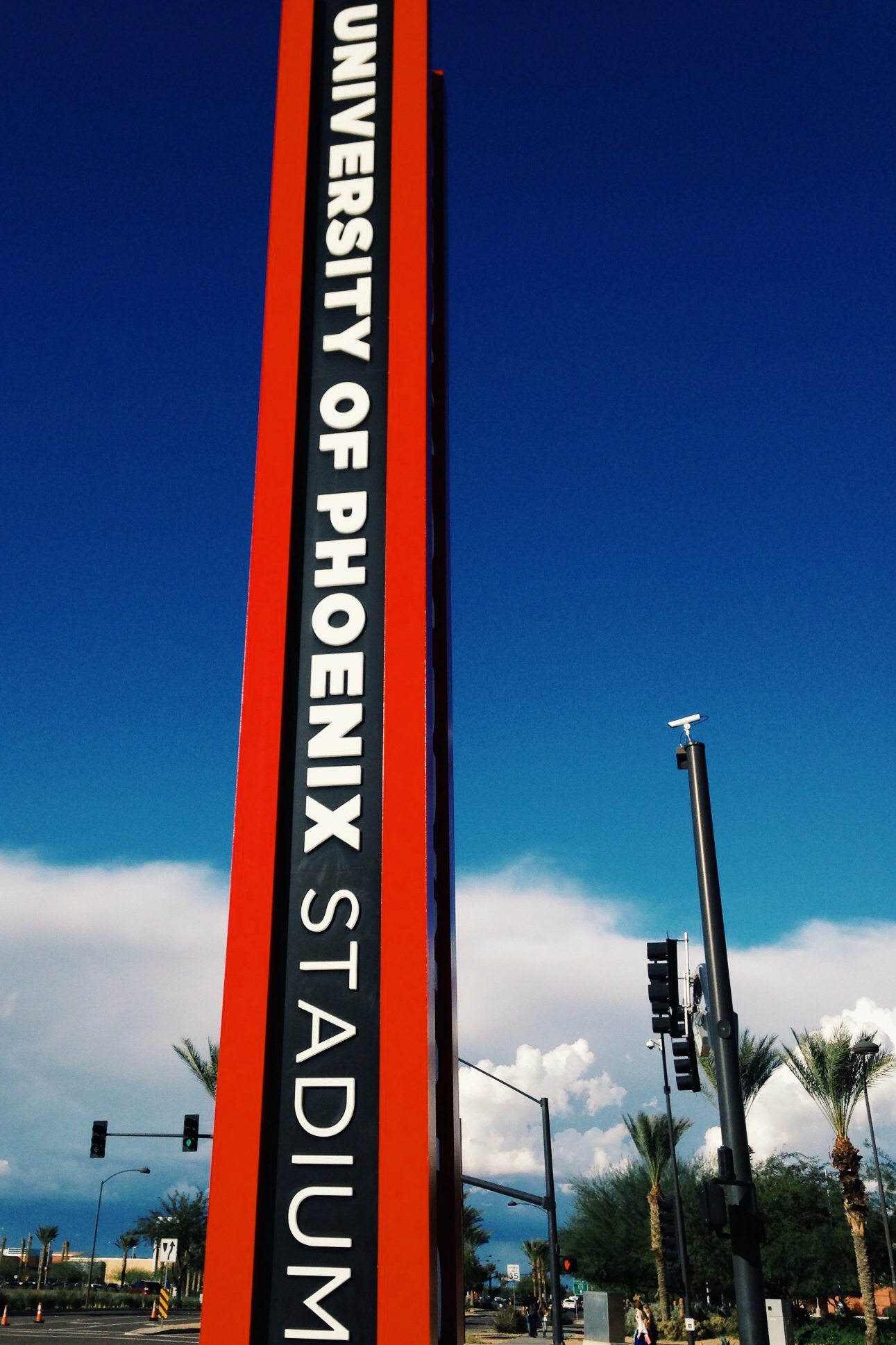 That's not really my scene, but we stopped in to check it out anyway. Somewhere in between whispering at Whisper Scarves and wondering at an animatronic talking deer head (why?!), we found the indoor archery range and a sales associate with a crazy fish cap and green-painted face and hands (in puzzling homage to the Grinch).
Quick backstory: Long before we met, Phillip and I had both tried archery (him at 4H, me at Girl Scout camp), both enjoyed it, and both hadn't picked it back up since we were teenagers.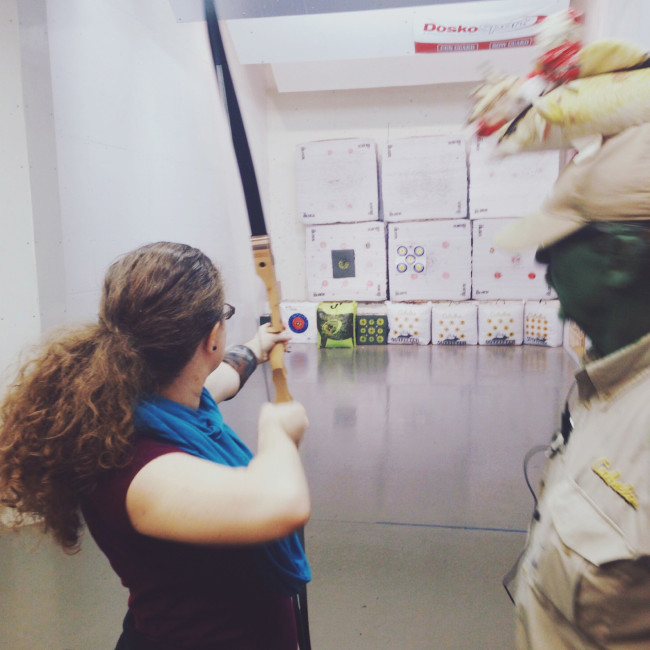 Fast forward back to Fish Hat Grinch Man: he got us set up with the waivers we needed to sign and patiently demonstrated how to use the recursive bow. I took a few shots, each farther from the target than the last, and then took a (totally undeserved) Katniss Everdeen bow at the end.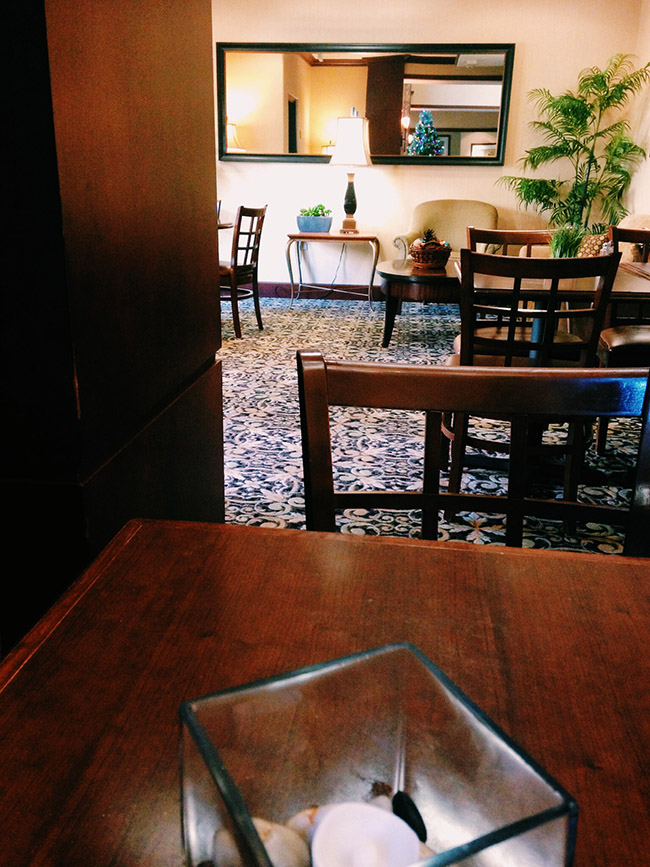 Eating
University of Phoenix Stadium has some basic hamburger/hot dog/soft pretzel type concessions, and a couple food trucks were parked outside during Fan Fest. There are tons of restaurant options at Westgate and Tanger Outlets, as well as in downtown Glendale (about 10 minutes' drive). We did a mix of our eating out and in, starting the day with Staybridge's hot breakfast buffet.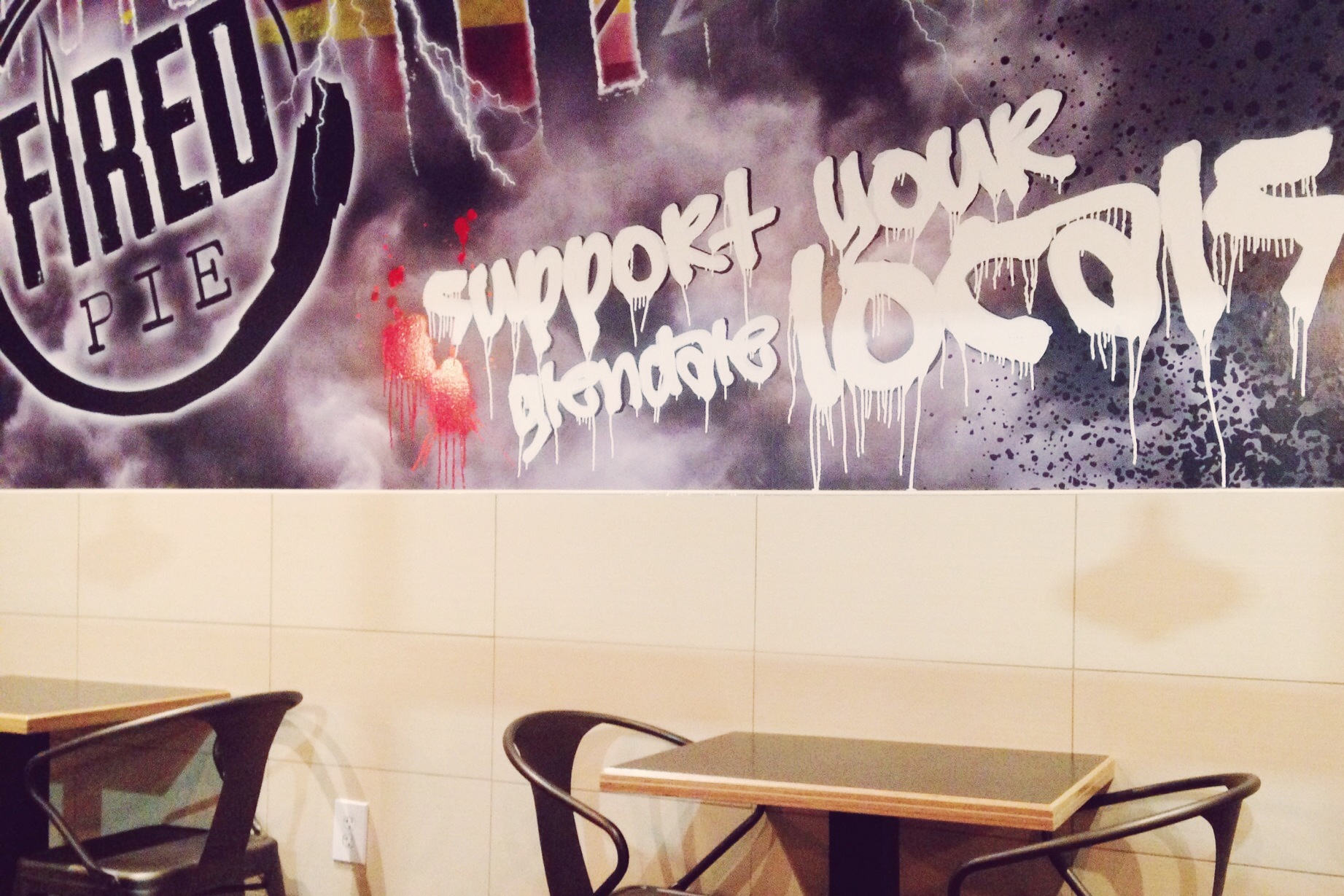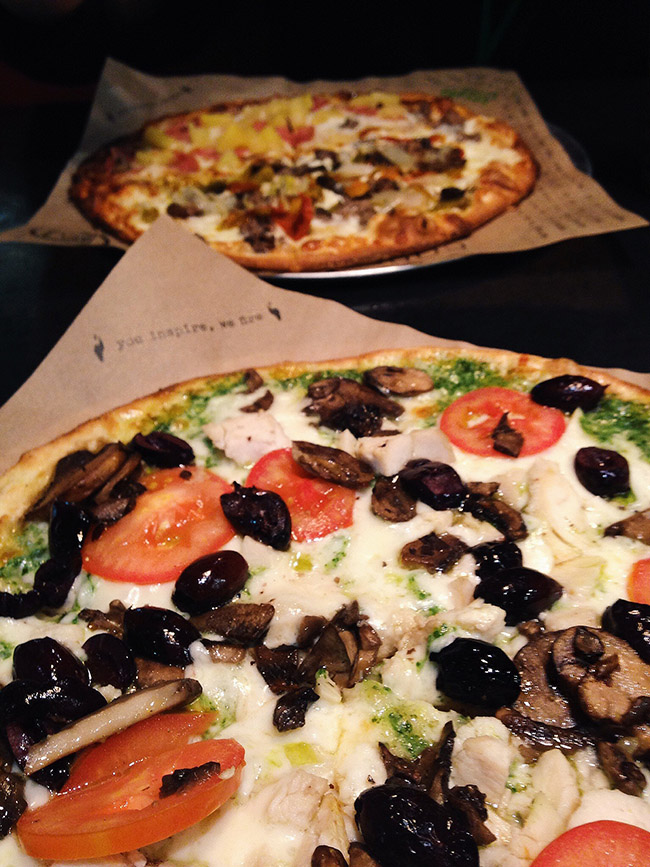 Fired Pie at Tanger Outlets
Fired Pie is one of the few locally-based options in the area surrounding the stadium. We expected a sit-down restaurant, but it's actually more fast casual. Think Chipotle for pizza, and you're on the right track.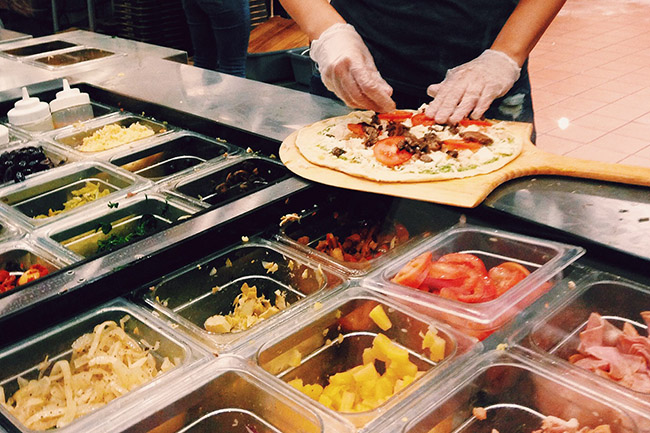 They have a great selection of quality ingredients for toppings like kalamata olives, fresh mozzarella, and grilled chicken. You can order from the menu or customize your individual pizza or salad as much as you'd like. You can choose your pizza's sauce, cheese, veggies, and/or meat. They wood fire it and have it ready for you in just a few minutes. We enjoyed it so much we've already been back – to the Chandler location.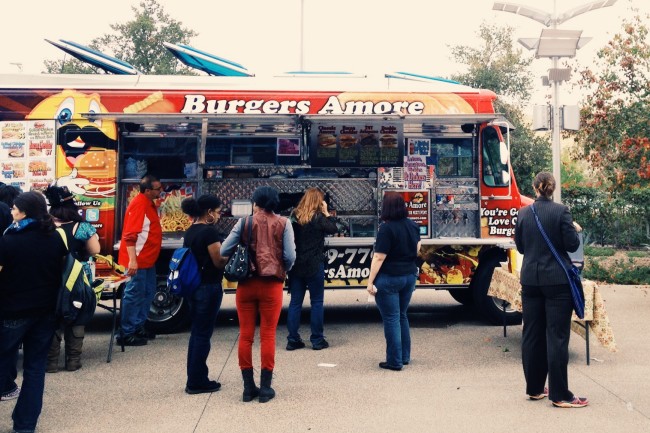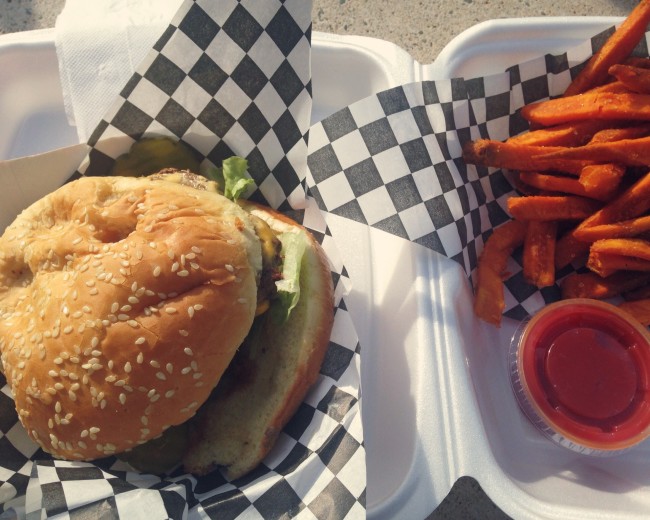 Food trucks
Of course, the Burgers Amore truck isn't always parked outside the stadium. However, they're worth tracking down. They have delicious steak burgers and sweet potato fries.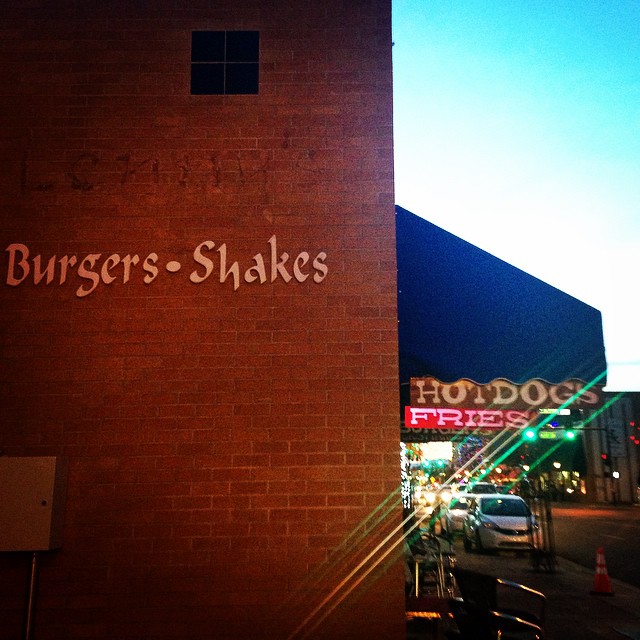 Lenny's
On the way home, we made an impromptu stop in downtown Glendale at Lenny's Burger Shop to see if they had anything for a sweet tooth. Turns out they had chocolate peanut butter shakes. Um, yes, please. Great way to wrap up the weekend!
PS Did you spot Mr. Cheeseface?
Thank you to IHG / Staybridge Suites for providing our accommodations. Also, thanks to Fired Pie for our media discount.