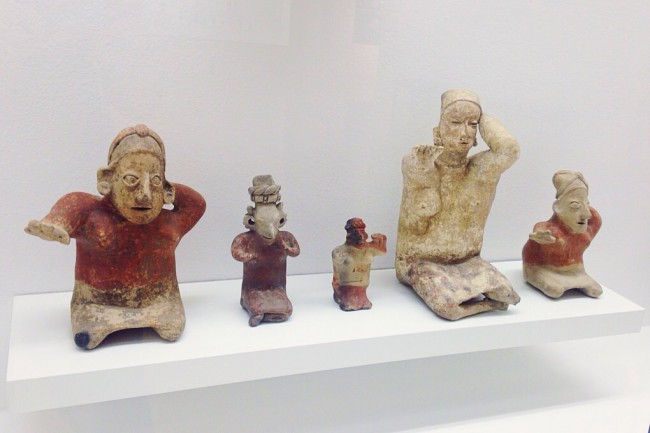 When we took our road trip to Las Vegas, our brief Bellagio Fountains visit was the most time we spent on the (in)famous Strip, where the supersized casino-resort properties (and, yep, lots of places for weddings) are clustered.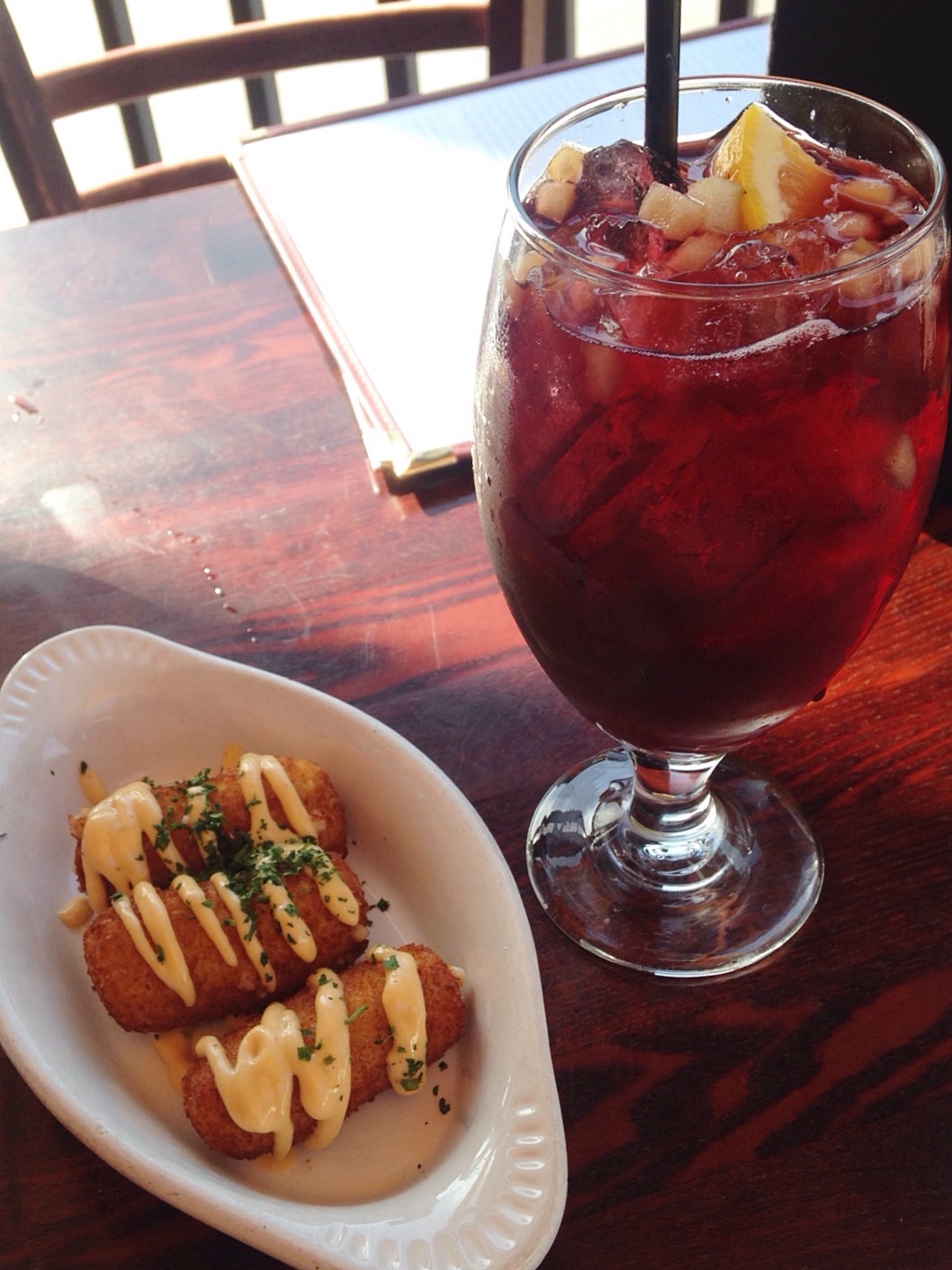 Instead, we played retro arcade games, found some art, explored the desert, and ate some really good food.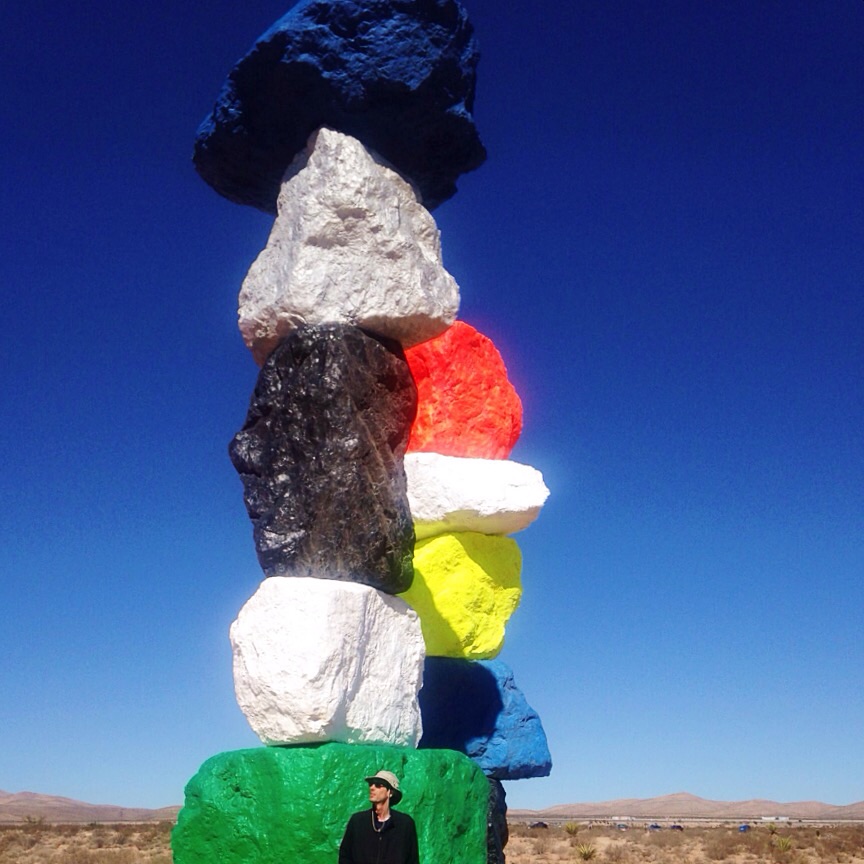 So, if ginormous casinos aren't your thing, read on for awesome places to go in Downtown, near UNLV, and outside of the city altogether.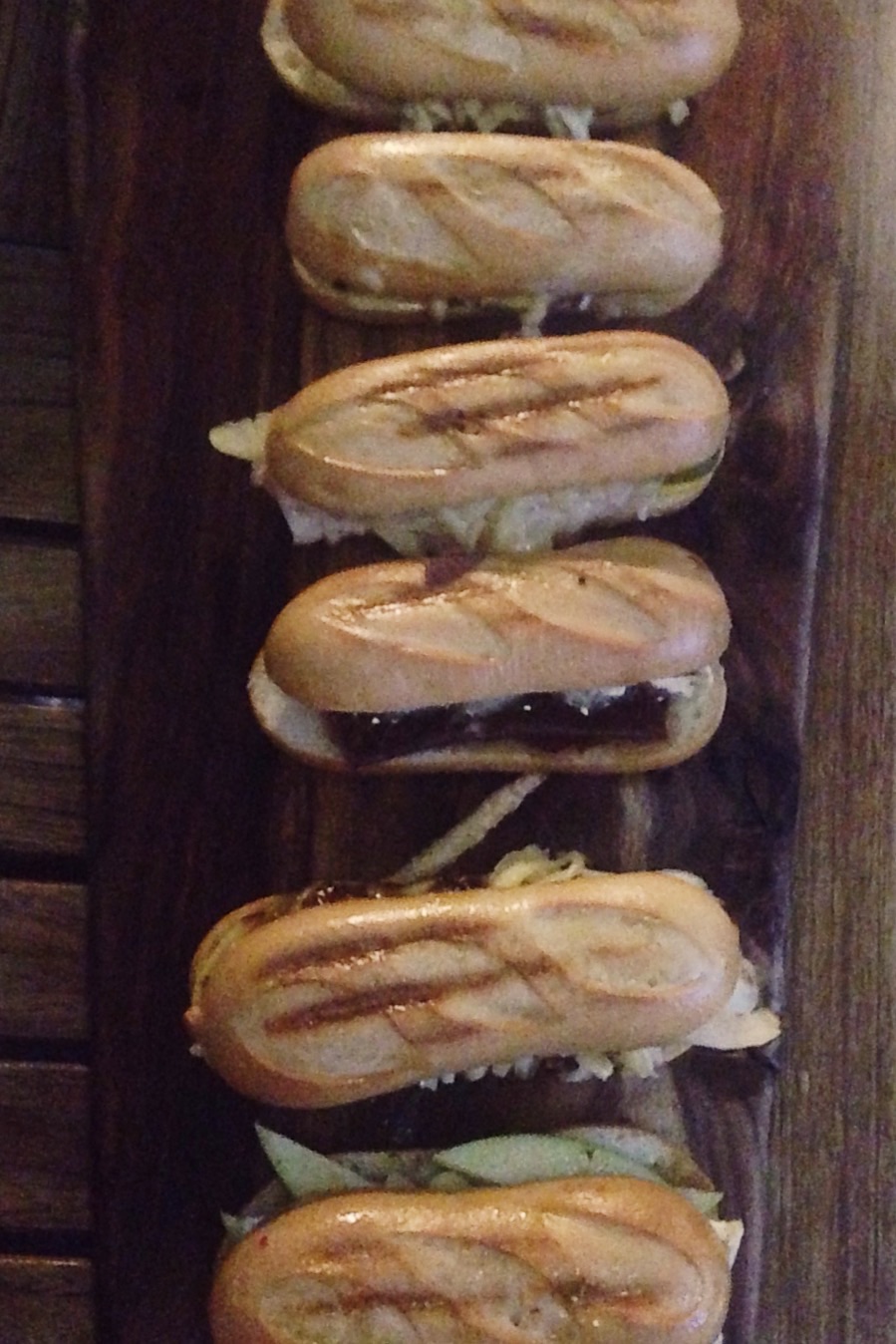 Downtown Las Vegas
Just north of The Strip is Downtown Las Vegas, which was built first, with casinos along its historic Fremont Street in the wild west days before Nevada was even a state.
Today Downtown includes the area between Washington Avenue and Sahara Avenue, Valley View Boulevard and Eastern Avenue. There is an effort underway to make it more welcoming and walkable, as well as focused on arts and small businesses.
You can still find casinos downtown too. Several of them are linked by the Fremont Street Experience pedestrian walkway, such as Binion's (home to a free-pull slot machine) and Golden Nugget (home to a waterslide that goes through a shark tank).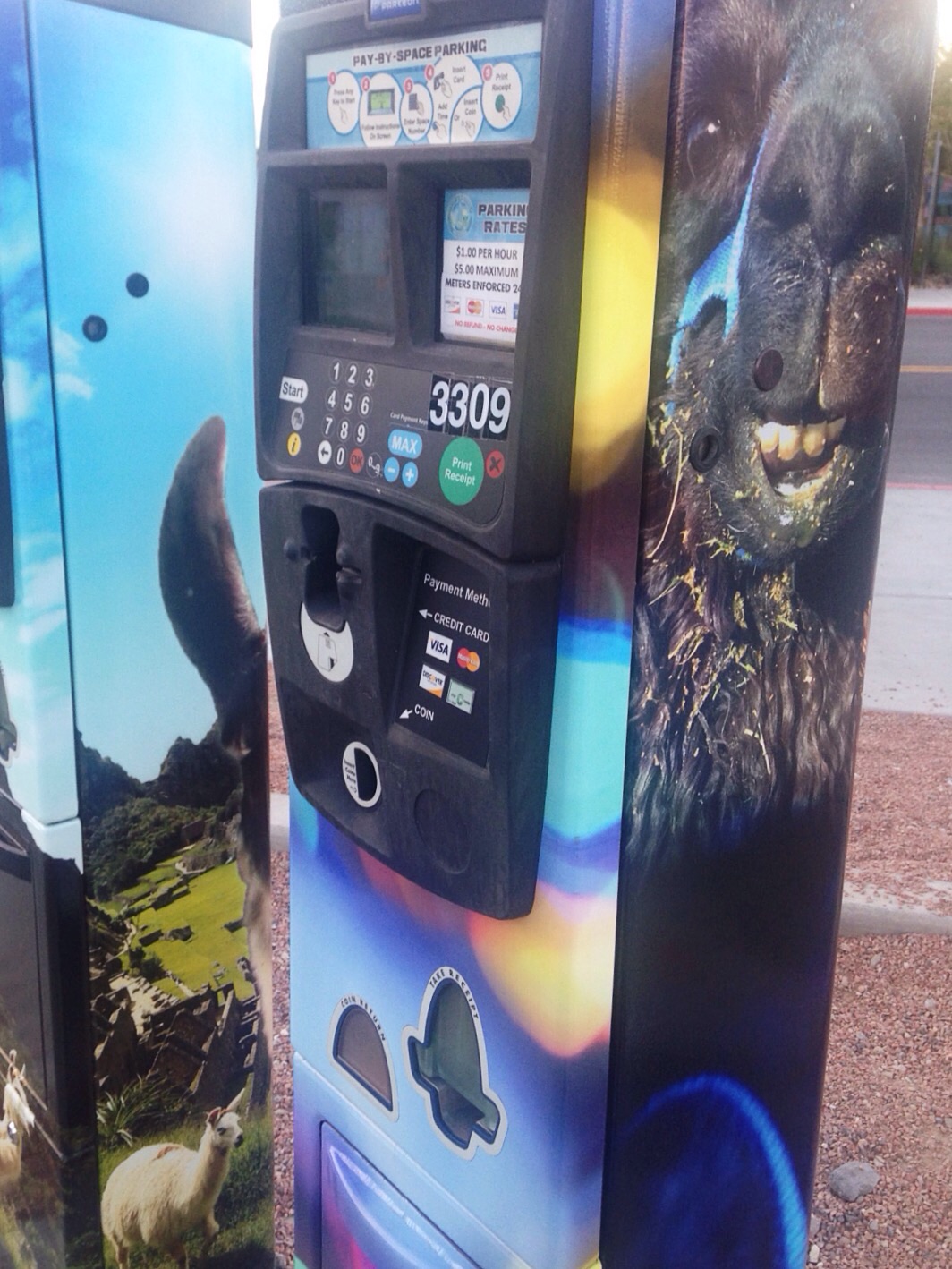 Downtown Parking
There are several paid parking lots in the Downtown area.
The best deal we found was at Llama Lot ($1/hour).
Fremont Street Experience parking garage offers 3 hours free with validation at Binion's, The D, Four Queens, Fremont Hotel, Golden Nugget or Golden Gate casinos. ($2/hour without validation.)
Golden Nugget also has its own parking (in case you're headed there anyway for food at Grotto or drinks at the shark tank/poolside H2O Bar), where you can get 3 hours free with validation. ($2/hour without validation.)
If you're parking or staying on The Strip, you can take the Deuce bus from there to Downtown. ($8 fare for unlimited rides during a 24-hour period.)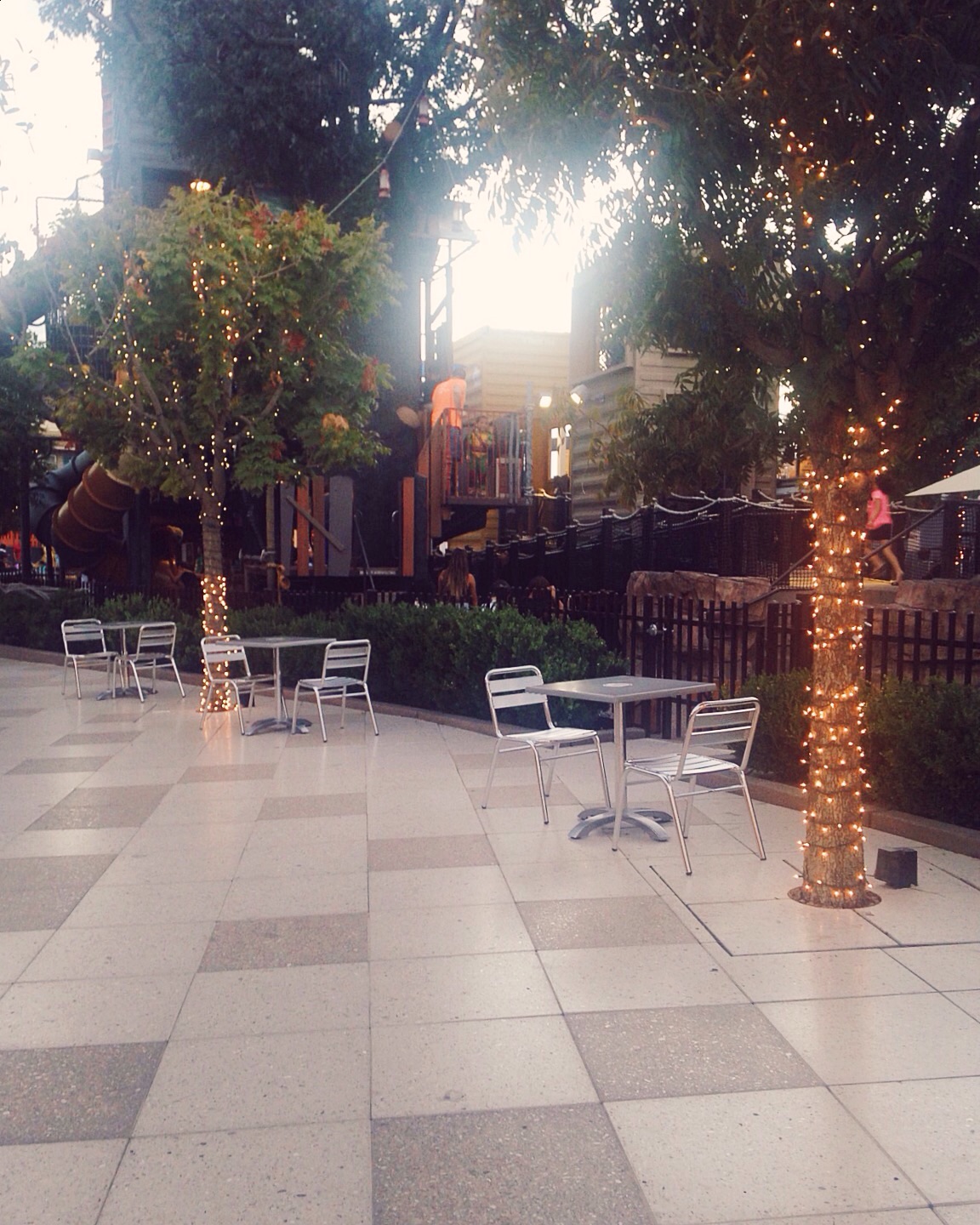 What it is: Three storeys of shipping containers repurposed into locally-owned stores and restaurants surrounding a central plaza and Treehouse playground.
Where: 707 Fremont Street, Las Vegas
Parking: Llama Lot and Fremont Street Experience parking garage (mentioned above) are each about .25 mile away, and you'll save a few bucks over the Container Park's own lot ($3/hour). Less money parking means more for things like cheese boards and bath bombs.
Hours:
Shopping Center –
Monday – Thursday: 11am to 9pm
Friday – Saturday: 10am to 10pm
Sunday: 10am to 8pm
Restaurants + Bars –
Monday – Thursday: 11am to 11pm
Friday – Saturday: 10am to 1am
Sunday: 10am to 11pm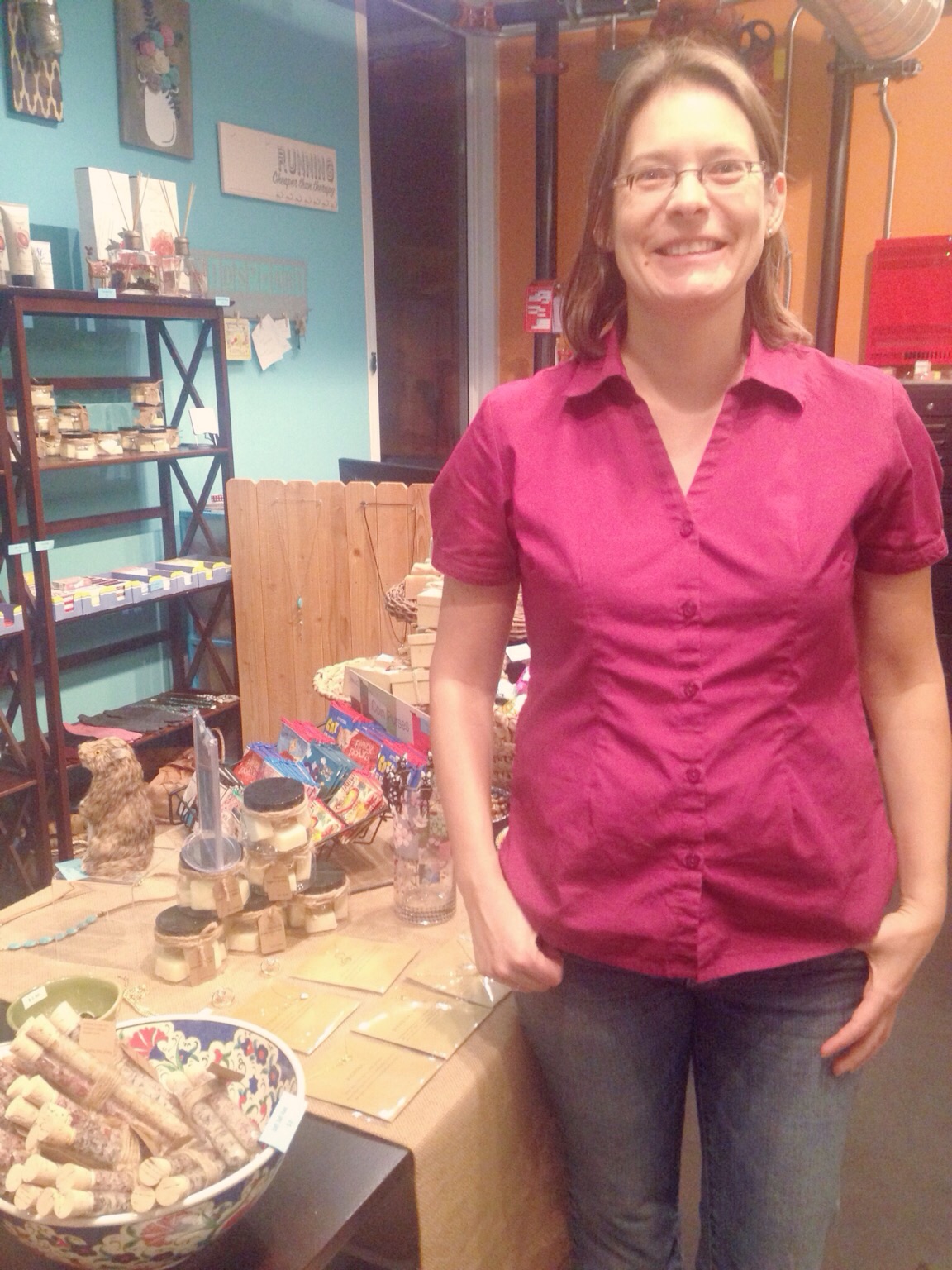 We liked…
Art Box for jewelry and artwork from 35 local artists.
Natural Earth Cosmetics has handmade natural bath products and cosmetics, knit wash mitts, and other unique gift items – most of it handmade by the owner Michaela.
Bin 702 for delicious and adorable montaditos (mini-sandwiches).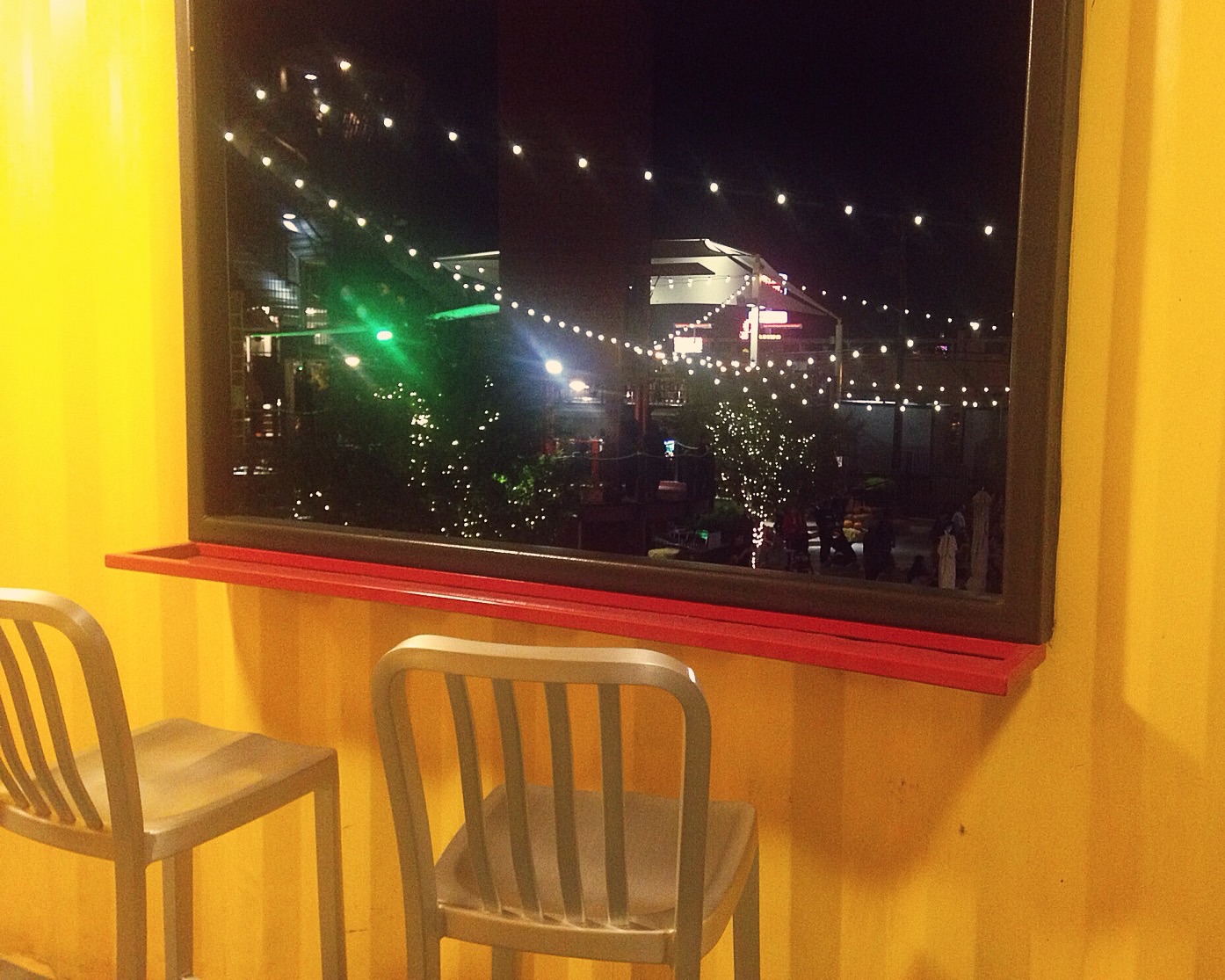 Tips:
Phillip wanted me to remind you not to miss the second and third floors. There is more food, more jewelry, clothing, and a cool pet store with reptiles, fish, and seahorses.
On the second floor next to The Perch, there's what looks like a gallery container with a few places to sit, some local artwork, and a view overlooking the courtyard and stage. It may actually be the smoking section and not a gallery. However, when we were there, people were hanging out, eating, and watching the costume contest happening on stage, but I don't remember seeing anyone actually smoking.
The Fire Mantis sculpture in front of the entrance periodically lights up, plays music, and shoots flames from its antennae.
Kappa Toys has their own custom pogs and slammers.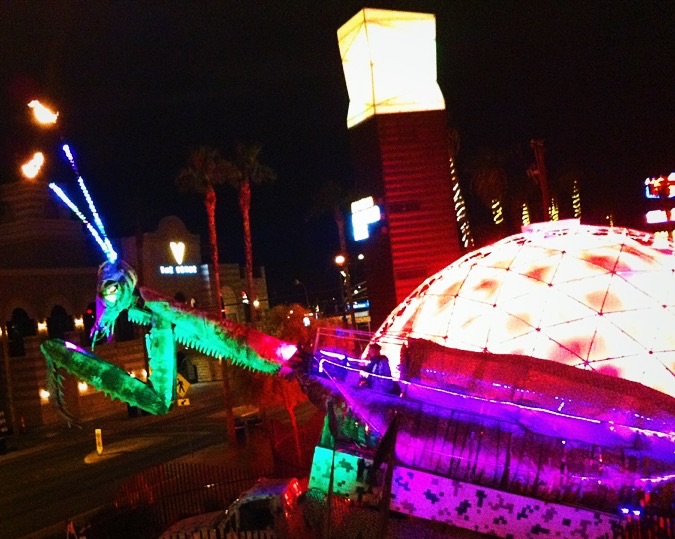 2. Find restored historic signs in Downtown's outdoor Urban Gallery.
What it is: As far as I can tell, this is not a single spot but several outdoor installations.
Nine of the Neon Museum's vintage signs have been restored to working order and installed around Downtown, including at the Fremont Street Experience pedestrian walkway. Since they're outside on public streets, you can visit them anytime. Just download a map of their locations and go on a self-guided tour.
Along the way, you'll probably spot other public art like Bordalo II's Meerkat mural on the side of an old bus or the world's largest working fire hydrant in front of a doggy daycare center.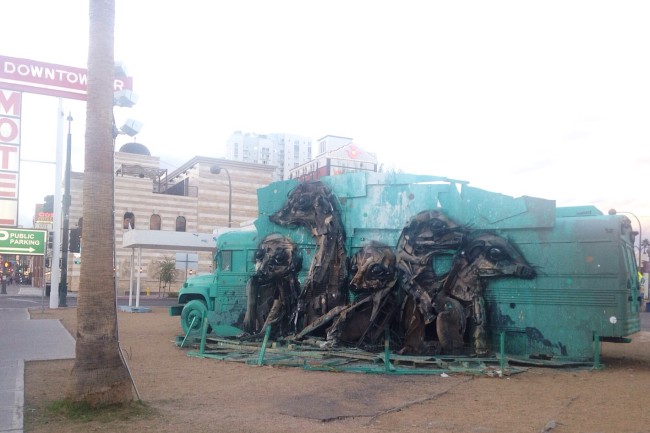 Where: Downtown Las Vegas, especially around Las Vegas Boulevard (See PDF map.)
Parking: Fremont Street Experience parking garage or any of the Downtown Parking options above.
Hours: Always open.
Cost: Free.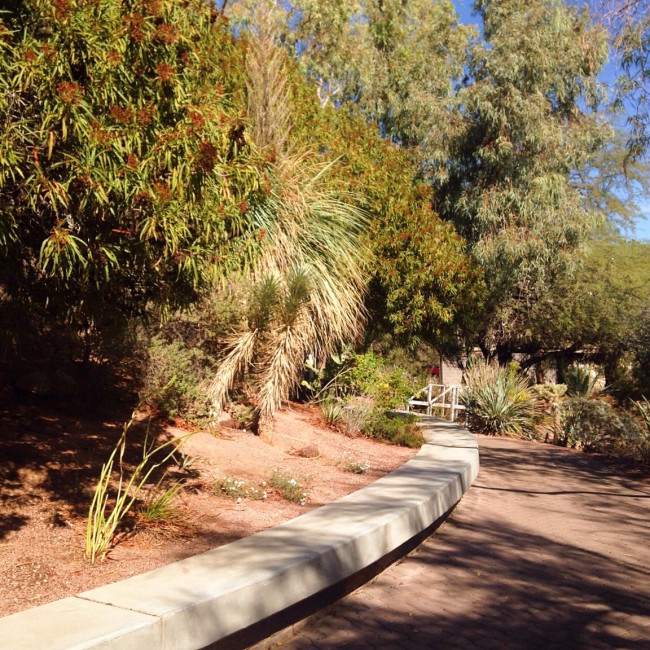 Around UNLV
The University of Nevada, Las Vegas (UNLV) is east of The Strip and directly north of McCarran International Airport. One of the items below is actually on campus, while the other two are nearby.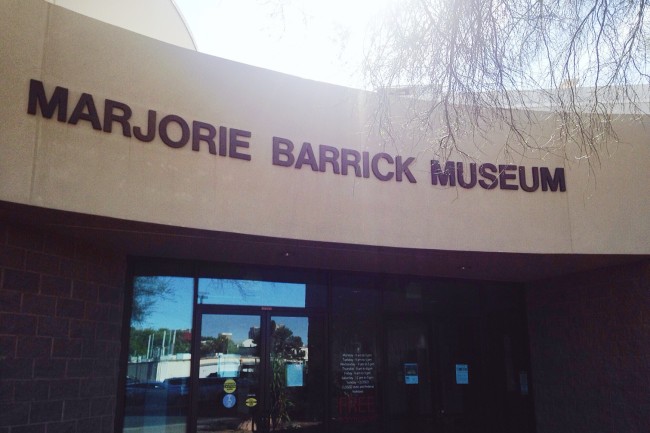 What it is: Small art museum with rotating exhibits inside a former gymnasium.
Where: 4505 S. Maryland Parkway, Las Vegas
Parking (PDF map):
Lot I (metered, $1/hour, right outside Musuem)
Visitor Lot V (metered, $1/hour)
Lot S (free, about 0.7 mile from Museum)
Hours:
Monday – Friday: 9am to 5pm (Thursdays until 8pm)
Saturday: 12 to 5pm
Closed Sundays
Cost: Free. Suggested contribution: $5.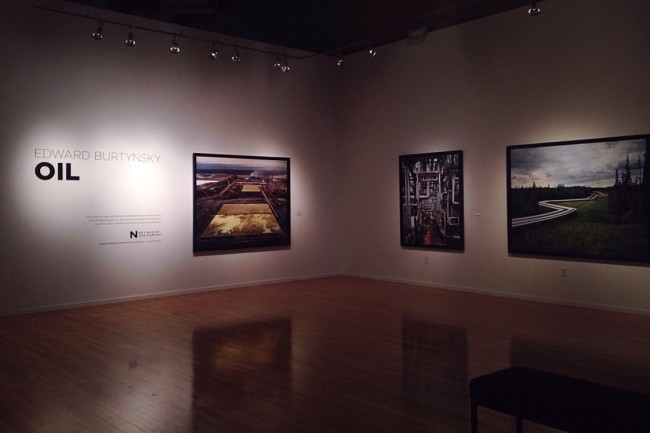 We liked…
In Transition: Ceramic figurines of women in different stages of life from pre-columbian Mesoamerica, South America, and Central America. September 6 – March 30, 2017.
Edward Burtynsky: Oil: Photo series on the effects of oil extraction and consumption around the world. September 23 – January 14, 2017.
The ArtBar, where you can create your own art in response to the work on display.
A xeriscape entry garden wraps around the outside of the building with pathways through desert plants.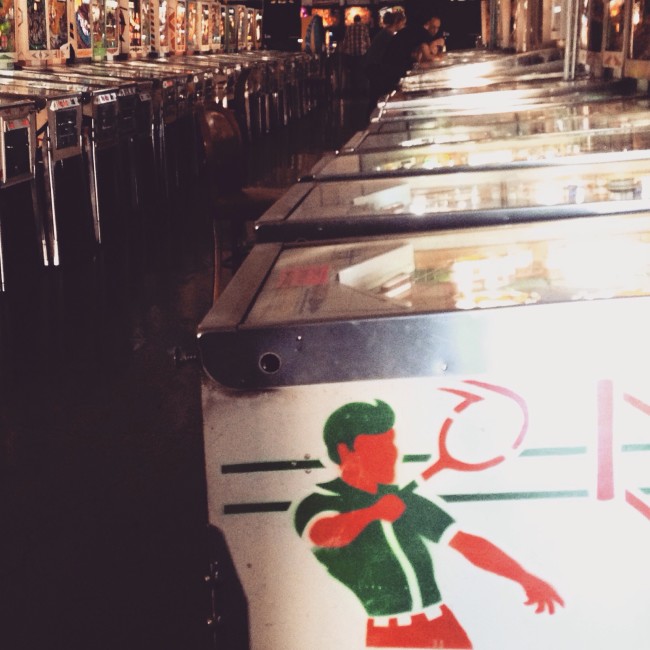 What it is: Not-for-profit, volunteer-run arcade of working (mostly) vintage pinball machines and games like Pac-man, Tetris, and Star Wars.
Where: 1610 E. Tropicana, Las Vegas (North side of Tropicana between Maryland Parkway and Eastern Avenue, about 1.5 mi from The Strip.)
Parking: Free lot on-site.
Hours:
Sunday – Thursday: 11am to 11pm
Friday – Saturday: 11am to 12am
Cost: Free entrance. Games are 25 cents to $1.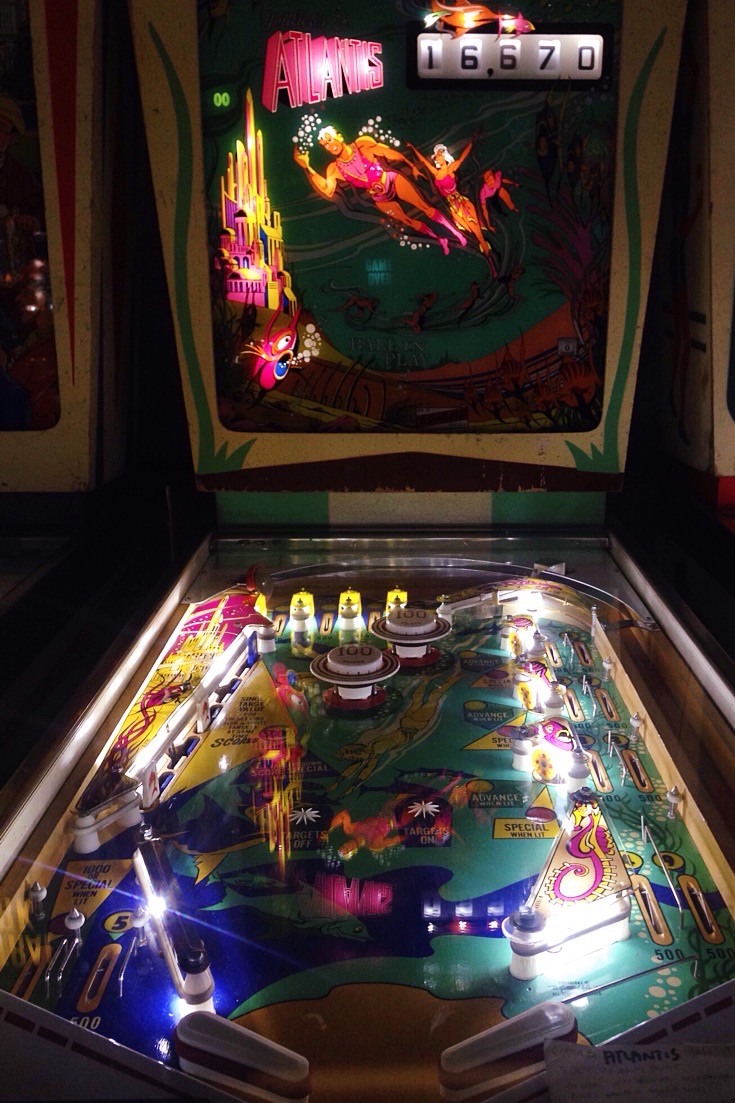 We liked…
Playing pinball! We enjoyed the analog machines, as well as the newer movie- and t.v.-themed ones (The Lord of the Rings, Gilligan's Island, etc.).
Indulging our nostalgia for video games we grew up with.
Phillip found some quirky old mechanical games, including one where you fly this little metal spaceship and one with a dancing clown that creeped me out.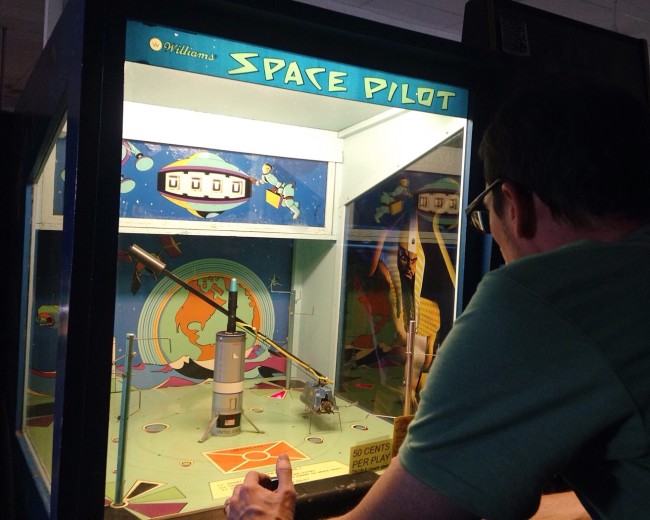 Tips:
Machines are old and finicky and may eat your quarters. Let the attendant behind the counter know which game it is right away, and they'll attempt to fix it or refund you.
There are change machines near the back.
Contrary to rumors that they're about to close, the Pinball Hall of Fame is actually in the process of expanding into a bigger facility down the street.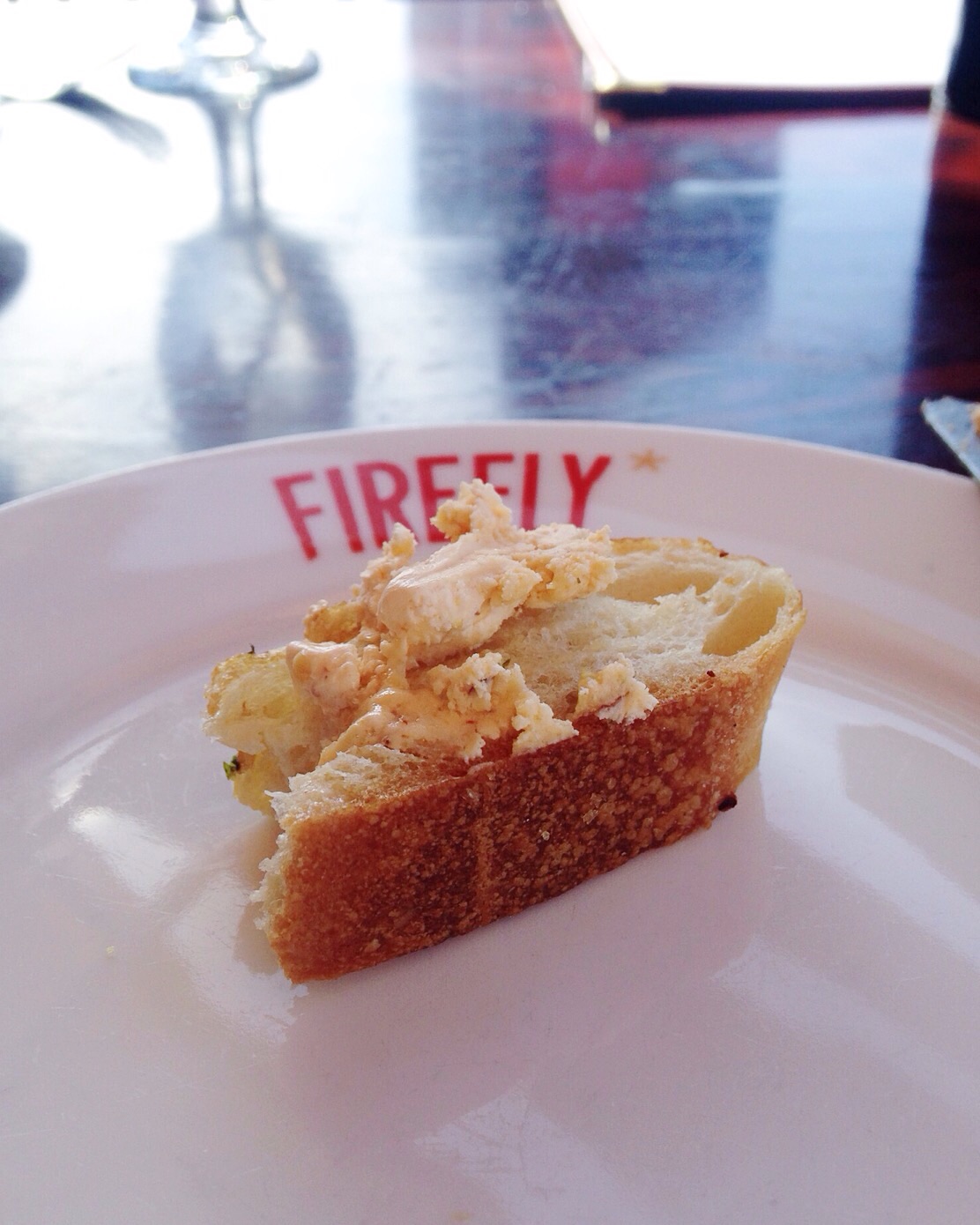 Where: 3824 Paradise Road, Las Vegas
Parking: Free lot on-site.
Hours:
Monday – Thursday: 11:30am to 1am (Happy hour 3pm – 6pm, 11pm – 1am)
Friday – Saturday: 11:30am to 2am
Sunday: 10am to 1am (Brunch 10am – 2pm)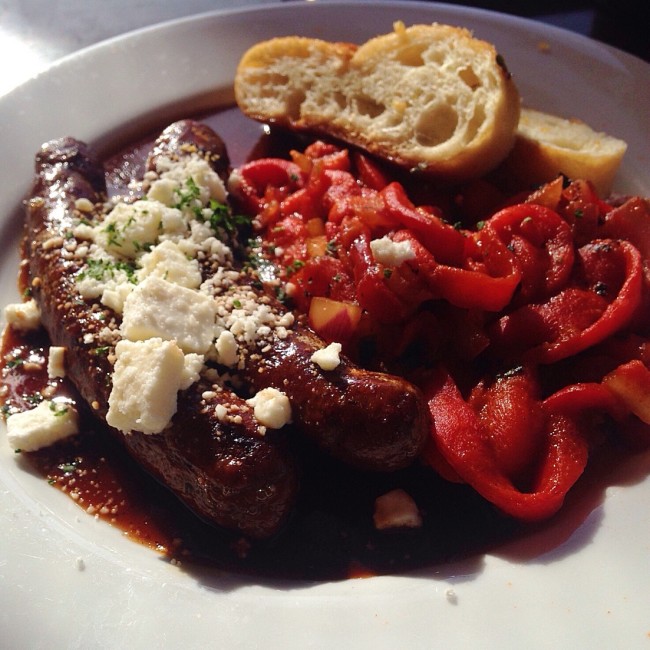 We liked…
Sangria, croquettes, bacon-wrapped dates, merguez – everything was so good and reminded me of the flavors of Spain!
We ordered a few (5ish) tapas to share. The small plates were great for sampling a variety of things and made a great lunch.
Outside of Town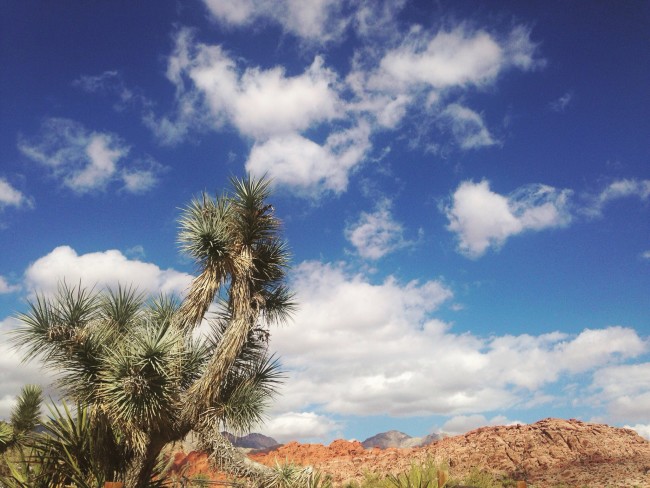 Where: 3205 State Route 159, Las Vegas
Parking: Free lot on-site.
Hours:
Visitors center –
Daily 8am to 4:30pm
Scenic drive –
Daily 6am to 5pm
Cost: $7/vehicle for entry to Visitors Center and scenic drive. Red Rock Scenic Overlook is outside of the fee area, so I believe it's free to stop there.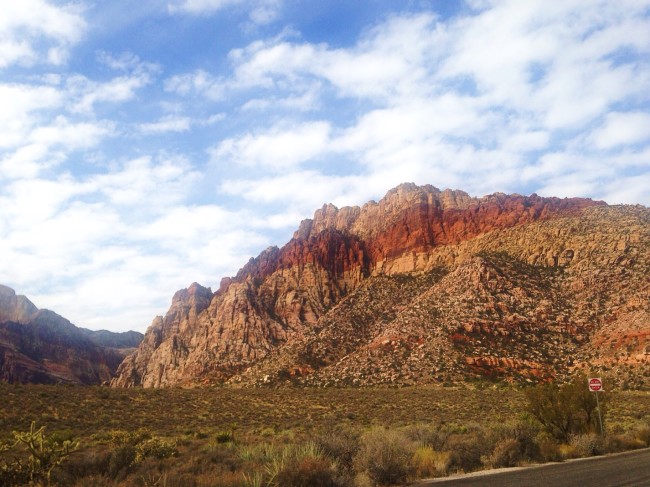 We liked…
45-minute scenic drive loop with plenty of places to stop, check out the view, hike, or picnic (see below).
Visitors Center with a great picture window and extensive exhibits outside.
Tips:
There's a desert tortoise habitat outside the Visitors Center, when it's not too cold for them.
We had no cell service out there.
While the scenic drive was beautiful at every turn, if you were suuuper pressed for time, you could at least stop at Red Rock Scenic Overlook. You won't get to see everything, but it would be better than missing out altogether.
We had hoped to squeeze in a quick hike and/or picnic, so I picked out a few options, and then didn't have time to do either. Anyway, here's what I found.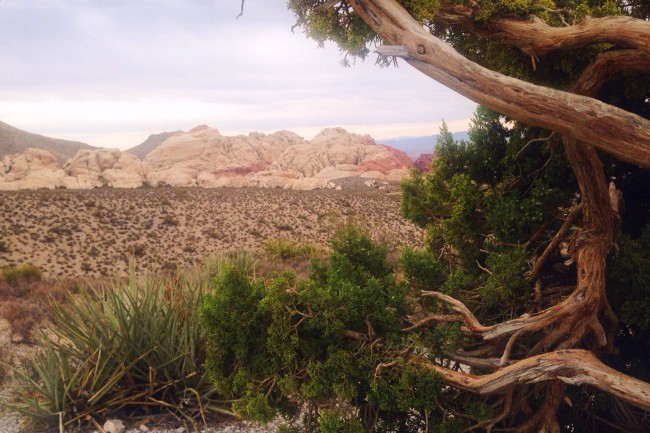 Easy hikes (and trail map numbers): 
Overlook Trail (22): Paved, wheelchair-accessible path leading to the top of a small hill with a view of Red Rock Canyon. 0.25 mi.
Lost Creek Children's Discovery Trail (8): Goes from the Lost Creek parking area to a seasonal waterfall. 0.7 mi.
Moenkopi Loop (1): Loop from the visitor center with fossils and panoramic views of the Wilson Cliffs. 2 mi.

Picnic areas:
There are 4, and all have tables, trash cans, and nearby restrooms.
Red Rock Canyon Visitor Center Picnic Area: West of the Visitors Center parking area (with access to Moenkopi and Calico Hills trails).
Willow Springs Picnic Area: About halfway around the Scenic Drive (with access to Lost Creek and other trails).
Red Rock Scenic Overlook Picnic Area: On State Route 159 with access to Red Rock Scenic Overlook Trail. Some covered tables.
The Red Spring Picnic Area: On State Route 159 on Calico Basin Road, two miles east of the Visitors Center. Covered tables.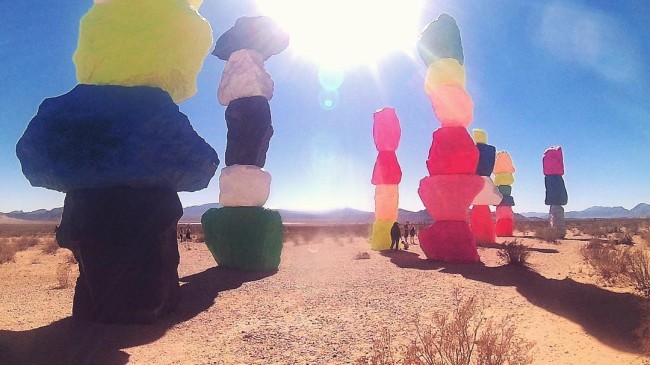 30-foot-tall stacks of neon-painted boulders in the desert, a large-scale art installation by Swiss artist Ugo Rondinone on display through May 2018.
Where: 10 miles (about 30 minutes) south of Las Vegas off I-15 near Jean Dry Lake.
Take Exit 25 at Sloan Rd.
It's on the way to Los Angeles.
If you're headed to Phoenix or just about anywhere else, it's not on the way, but we thought it was worth the detour!
Parking: Free lot on-site.
Hours: Daily, sunrise to sunset (recommended).
Cost: Free.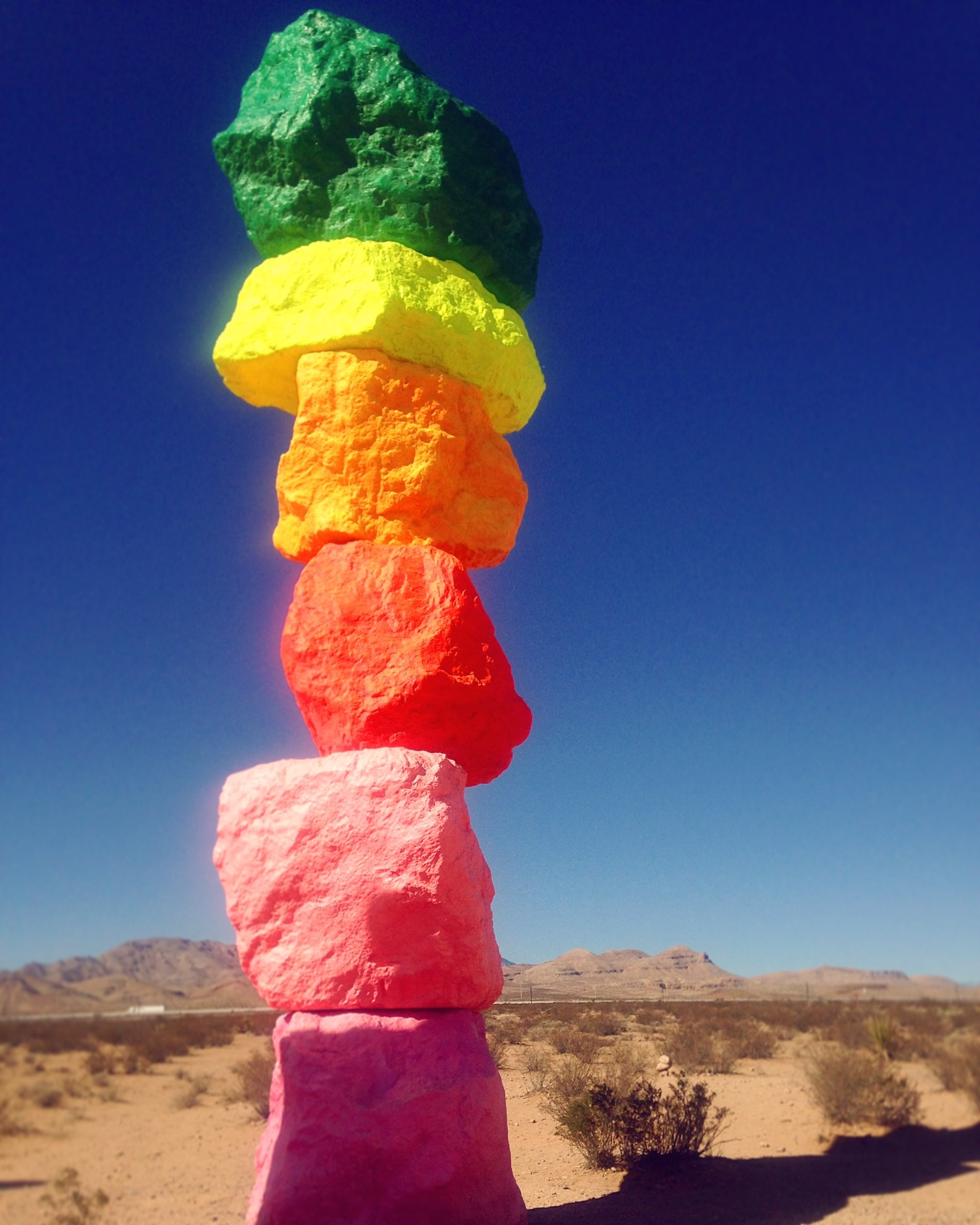 We liked…
Seeing the vibrant colors against the muted landscape.
Experiencing art large enough to crush us.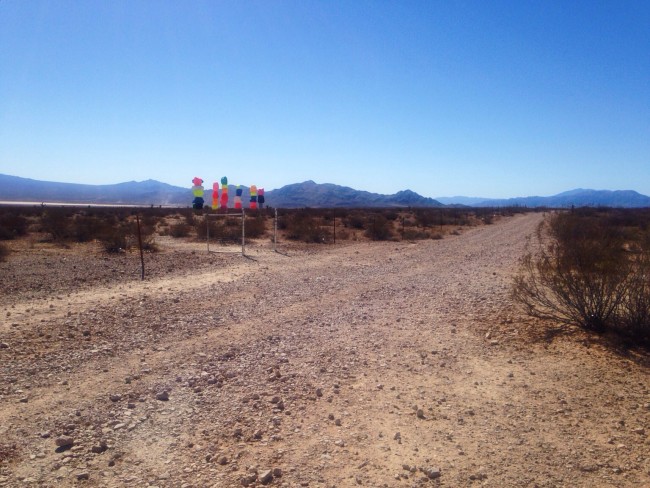 Tips:
You can get some background information from either the signage near the parking lot or by calling (702) 381-5182 (English or Spanish).
There are no restrooms, water, tables, benches, shelters/shade covers, or anything else on the site. Just you, the art, and the elements in the open desert.
The closest public restrooms are 5 miles away in the town of Jean.
It was very windy the day we were there. A woman showed up with a yoga mat but didn't stay long because it was so dusty. Plan for the weather. Don't plan on doing yoga.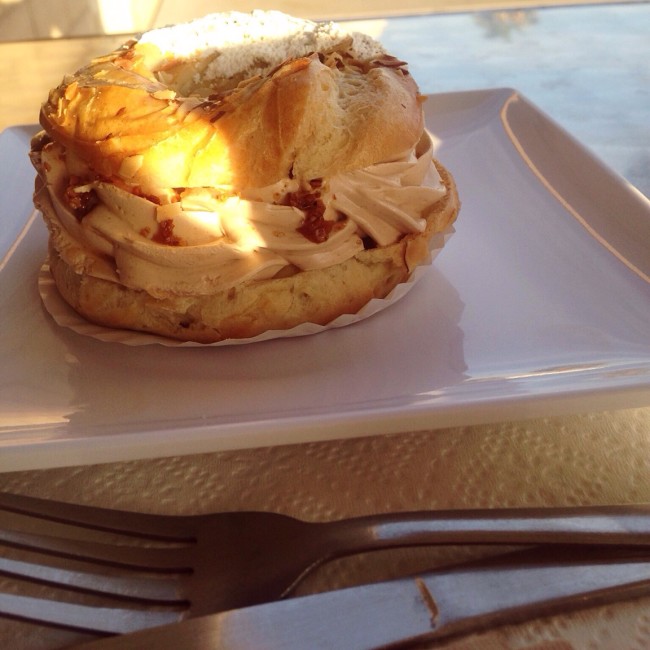 Bonus
A few more Off-Strip eatery options:
Delices Gourmands French Bakery (3620 W. Sahara Avenue, Las Vegas) – Stopped here for a pastry and coffee.
The Sparklings (8310 S. Rainbow Boulevard, Ste. 100, Las Vegas) – This is where our friend's wedding was, so we didn't visit during normal restaurant hours, but it seemed like a neat place.
KJ Kitchen (5960 Spring Mountain Road, Chinatown, Las Vegas) – Our Las Vegas friends' pick for "real Chinese food."
There are also lots of places to stay that aren't on The Strip. We opted for a great little Airbnb casita rental near Red Rock. [UPDATE: You can get $35 off your first Airbnb stay and help us keep traveling by signing up via my referral page.]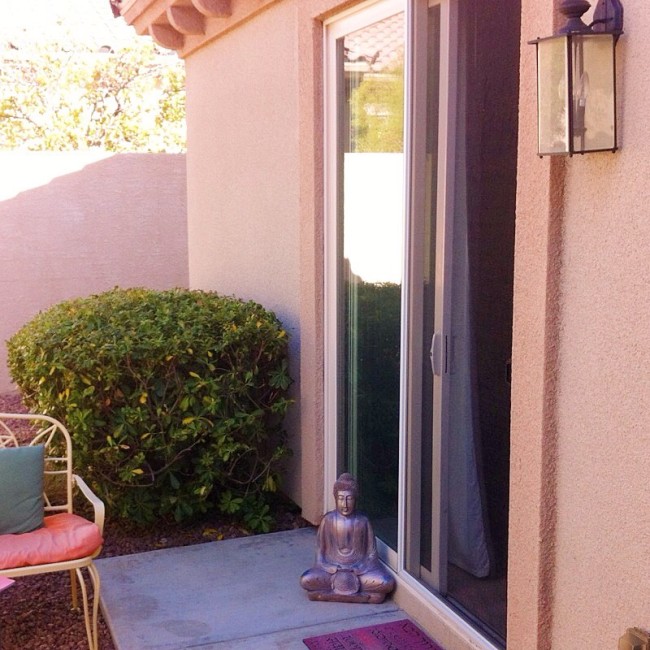 ---
What are your Off-Strip tips?